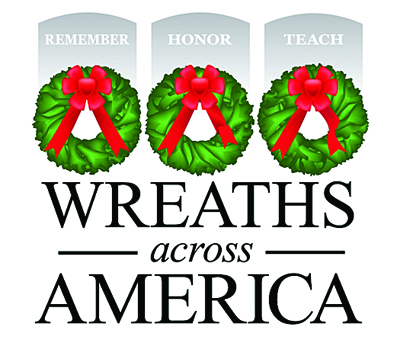 With a less than overwhelming public response to honor Knox County fallen veterans just before Christmas in 2017, Farragut, Hardin Valley and other area residents can do their part to remedy that concern

Sponsor an evergreen wreath for one or more of the almost 17,000 late veterans buried in the county's three veterans cemeteries.

Locally, Capt. Bill Robinson Chapter of Vietnam Veterans of America "has taken the leadership role to raise the necessary funds in an effort to see a wreath on each of the nearly 17,000 headstones," said Chris Albrecht, the chapter's Public Information officer, about Wreaths Across America Day.

Annually celebrated on the third Saturday in December since the early 1990s, WAAD will begin at noon, Dec. 15, at all three locations: Knoxville National Cemetery, along Tyson Street (next to the Old Gray Cemetery), which has 9,246 graves; East Tennessee State Veterans's Cemetery, along Lyons View Pike in Bearden, which has about 5,000 graves; and East Tennessee State Veteran's Cemetery, along Gov. John Sevier Highway in South Knoxville, which has about 2,500 graves — a number increasing because it is Knox County's active veteran's cemetery.

"Seeing row after row of marble headstones decorated with an evergreen wreath during the Christmas holiday season is breathtaking," said Albrecht, who served in the U.S. Navy (high rank a 2nd Class Petty Officer) from 1968 to 1972.

However, with the chapter receiving no state or federal funds, "Last year only about a third of the headstones in our three cemeteries were bedecked with a Christmas wreath," he added about the lukewarm Knox County public response to donate. "We are asking individuals, families and businesses to consider sponsorship."

Cost is $15 to sponsor a wreath. Go online to www.vva1078.org/, "choose which cemetery where you would like to send your wreath(s) and how many you wish to sponsor," Albrecht said.

For those who would rather donate by mailing a check, make payment out to "VVA 1078" and mail to Wreaths Across America, P.O. Box 50054, Knoxville TN, 37950-0054.

Deadline to donate runs until midnight, Friday, Nov. 30.

Volunteers can help with wreath-laying by simply "begin there" at any of the three cemeteries "at least a half-an-hour" before the noon ceremony begins Dec. 15, Albrecht said. "It will be rather obvious where to go."

As a vital part of the ceremony, after volunteers place the wreath at a 45-degree angle against the headstone, "volunteers take a step back and read that person's name out loud," Albrecht said.

"It's been said that 'a person dies twice: once when they take their last breath and again later ... when their name is no longer spoken out-loud,'" he added about the significance of the fallen veteran's name being read aloud.

As opposed to ordering plastic imitation wreaths, these "genuine evergreen wreaths are made from sheared spruce trees in Maine, they have a special plantation of trees" for all Wreaths Across America, Albrecht said. "... They get these transported all over the country by truckers who volunteer their time and trucks."

Each wreath, measuring "between 2- and 3-feet in diameter, will have a beautiful red bow," he added.

Wreaths Across America started in 1992 after a wreath company "shipped its excess wreaths to Arlington National Cemetery, asking they be placed on the headstones in an older, rarely visited part of the cemetery," Albrecht said.