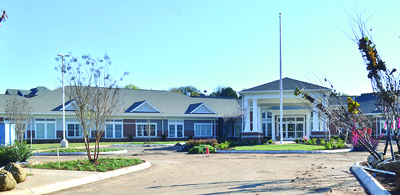 Construction workers and landscapers were hard at work Saturday, Nov. 17, readying the new NHC Cavette Hill building for its grand opening Thursday, Nov. 29. The new building, which is on the same campus as the existing NHC Farragut facility, is a dedicated memory care unit offering four wings and 60 individual apartments.

NHC Place Farragut has a new service to offer the community through its almost-completed $14 million dedicated memory care facility, Cavette Hill.

Located on an adjacent plot of land already owned by NHC, the new addition's grand opening is scheduled from 4:30 to 7 p.m., Thursday, Nov. 29, creating a Continuing Care Retirement Community.

"We are very excited about it," said Harriet Amonette, NHC Place Farragut's director of Marketing Services. Campus-wide "we will be offering a continuum of care in which once you move here from your home, there will be no need for you to move anywhere else again."

NHC Place Farragut, which opened in 1998, already offers 84 apartments in its assisted living community and a 106-bed rehabilitation unit.

NHC staff, construction workers and landscapers all have been working feverishly on the final touches at Cavette Hill, which has been under construction for a good portion of the 2018 calendar year, Amonette confirmed.

She said the new 40,100 square foot facility — unique in that it is free-standing — came about in the wake of a market analysis she oversaw about 18 months ago, where a need for such a community was identified.

Cavette Hill offers 60 individual units housed in four separate self-contained wings, each of which houses 15 apartments, central indoor gathering and dining areas, a shared outdoor courtyard space and assigned nurses and staff.

Three floor plans are offered, each uniquely named for familiar Farragut/Knoxville names: the McFee, the Kingston and the Neyland.

While many of the rooms remain available, she said deposits already have been received for several of the apartments.

All-inclusive monthly costs begin at $6,400, Amonette said.

"There are no extra care level charges, no community fees or administrative fees," she said.

As a designated memory care community, Cavette Hill will have a completely secure campus, said Amonette, who also noted NHC is working very closely with Alzheimer's Tennessee to train its employees and providers on how best to interact with and care for dementia patients.

"We have all completed our training with them, and they will train our future employees, too," she said. "Even our maintenance workers and receptionists will have to go through the training, and that educational component really sets us apart at NHC."

During the grand opening, NHC will be dedicating a plaque which states: "This facility is committed to being a community resource for love and dignity for the many individuals and their families seeking hope and compassionate care."

"That really is what we are all about," Amonette added.

To learn more about what Cavette Hill has to offer, contact her at 865-777-9000. Or call the new facility at 865-392-6010.