Nov. 14 as Mayor, Meyer on hand; Sherrill signing extra reason for school celebration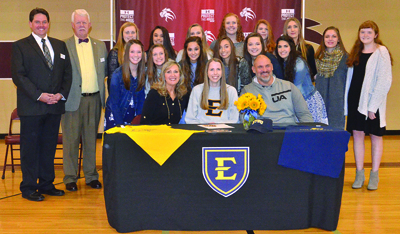 Town of Farragut recognized the Concord Christian School Lady Lions Volleyball Team's Division II-A state runner-up finish by proclaiming Wednesday, Nov. 14, as "Lady Lions Volleyball Day" in Town.

Farragut Mayor Ron Williams, second from left, and Town Alderman Scott Meyer (North Ward), far left, presented certificates to team members on that day, and read the proclamation in CCS Family Life Center Gymnasium. Moments before, CCS star outside hitter Sidney Sherrill, seated in center, signed a National Letter of Intent with East Tennessee State University alongside parents, Aaron and Traci Sherrill (not pictured). Seated alongside Sherrill during the Town proclamation are CCS volleyball head coach Carmen Hochevar and assistant coach Walter Brock. Other team members, in no order, are Alie Tucker, Karson Brock, Gracie Campbell, Mikayla Profeta, Sydney Peterson, Elizabeth Dawson, Annabelle Sulish, Mady Sulish, Emma Meyer, Juliana Kuhn, Anna Komistek and Sierra Spalding. Olivia McFall is team manager.