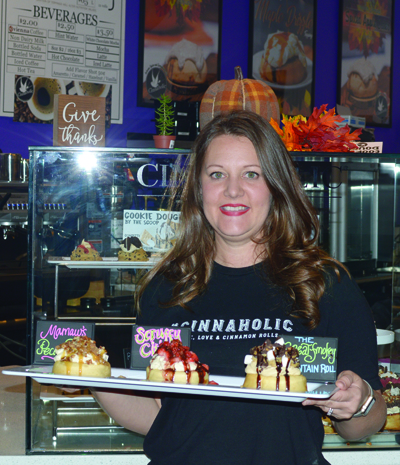 Cinnaholic owner Holly Roe opened her bakery at 9450 S. Northshore Drive, across from Kroger, Friday, Nov. 16. The bakery offers gourmet cinnamon rolls, which are vegan and dairy-free, along with cookies and cookie dough.

Cinnaholic, the gourmet cinnamon roll bakery acclaimed for serving innovative, gourmet cinnamon roll creations, opened Friday Nov. 16, at 9450 S. Northshore Dr., Suite 106.

The Knoxville bakery franchise, opened by Maryville resident Holly Roe across from Kroger, is the first location in Tennessee.

Her product is free of dairy, lactose, eggs and cholesterol.

"There is a tremendous amount of excitement to serve our award-winning cinnamon rolls to the people of Knoxville," said Roe, who has worked in ministry for more than a decade. "I'm so excited to be bringing such a delicious

and allergy-friendly dessert to my community."

The franchise was founded on a commitment that all the ingredients must be animal-free.

Customers can choose from a myriad of Cinnaholic's signature frosting flavors and toppings to create their own mouthwatering cinnamon experience.

"We have more than 20 different frostings and 20 topping choices," Roe said.

Roe first tasted a Cinnaholic cinnamon bun while on a family trip in Colorado.

"We stumbled upon the place," she said. "I just had an old-school, plain cinnamon roll with vanilla frosting, and it was the best cinnamon roll I ever had."

Once she tasted the bun, she knew she had to have more, so she was inspired to purchase a franchise. When she looked up Cinnaholic online, she discovered there is not another store in Tennessee.

"So that's when I called and asked about franchising," Roe said. "They told me they wanted to put one in Tennessee, and they were looking in the Knoxville area.

"We wanted to bring (Cinnaholic) to Knoxville," she added while laughing.

"Holly and her business partners are the perfect team to grow the Cinnaholic brand in Knox (County)," Cinnaholic co-founder Shannon Radke said. "Their commitment to the community is outstanding, and they truly understand the Cinnaholic concept and business model."

The new Northshore location, which also offers catering, joins locations in 10 other states.

Cinnaholic gained national attention after it was featured on ABC's hit show "Shark Tank."

The store is open from 10 a.m. to 9 p.m., Monday through Thursday, and from 10 a.m. to 10 p.m., Friday and Saturday. It is closed on Sunday.

For more information, including catering, visit www.cinnaholic.com or call 865-247-5515.