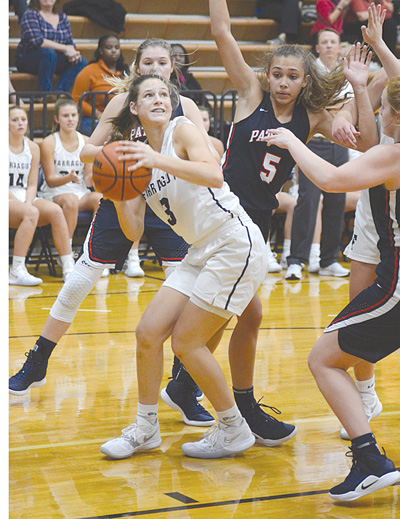 Macy Barnes, Farragut Lady Admirals sophomore guard, drives baseline on Jefferson County's defense during the championship game of inaugural Farragut Thanksgiving Girls Tournament Saturday evening, Nov. 24, in FHS's Lynn E. Sexton Gymnasium.

Farragut High School girls basketball head coach Jason Mayfield had to like what he saw Saturday night, Nov. 24, as his Lady Admirals kept their perfect record intact by winning the Farragut Thanksgiving Tournament.

Farragut's offense was a bit stagnate out of the gate, but once freshman Avery "Ace" Strickland hit a pair of early free throws, the Lady Ads got going and scored points in bunches en route to posting a 75-54 victory over previously undefeated Jefferson County High School in FHS's Lynn E. Sexton Gymnasium.

"It's funny, but it's our younger kids like Ace, (sophomore guard) Macy (Barnes) and (freshman) Keeleigh (Rogers) who are scoring and carrying us right now," Mayfield said after watching his squad improve to 6-0 with the victory over the Lady Patriots. "They have all the experience with the (middle school postseason) tournaments. We always have somebody different stepping up and scoring for us.

"And our older kids don't care. Those girls just all want to win. They're all hungry to win. We've had two tough years around here, but we were short-handed. I'm not making any excuses but we were short-handed. We didn't handle it well as coaches and we didn't handle it well as players. But it's made us all hungrier."

Against Jefferson County (4-1), it was Strickland, senior Sydney Chapman, Barnes, Rogers and senior Brooke Christian who handled the bulk of the scoring load.

Strickland, a two-time Knox County Middle School Basketball Conference Player of the Year, led the way with 17 points. Chapman added 14 points and Barnes finished with 12 points.

Christian and Rogers had nine points apiece for FHS, which fell behind 2-0 before senior Morgan Carbaugh scored its first point with a free throw with 5 minutes, 16 seconds remaining in the first quarter. Strickland made a pair of foul shots a short time later to make the score 3-2.

Those free throws would open an 11-0 run.

After the surge, JCHS wouldn't really recover. The Lady Pats would pull to within 16-10 late in the frame, but the Lady Ads would score the final six points of the stanza.

Carbaugh culminated things when she drained a 3-pointer at the buzzer to make the score 22-10.

Jefferson County was baffled and rattled by Farragut's pressure defense and committed turnovers by the bundles throughout the contest. The Lady Patriots wouldn't come any closer than nine points after halftime.

Jefferson County head coach Rick Sinard said he knew the Lady Admirals could shoot, especially from beyond the 3-point arc. But his team's miscues under pressure left him frustrated.

"What killed us was the turnovers under pressure. We panicked and you can't do that," he said. "Hopefully, we grew up a little bit tonight.

"The three's don't really bother me. We knew they could shoot and you always run into teams that can do that. What bothers me is the turnovers."

Farragut made 11 long-range jumpers in the game. Chapman hit four. Barnes and Rogers each converted a pair while Carbaugh, Strickland and Madison Hodge each had one.

Chapman said the Lady Admirals have played well, but noted their defense has been key for their success.

"We've been able to beat teams by significant margins, even when we have a game like this when we start slowly," she said. "We communicated well tonight and we're all pretty good defenders.

"We can all play pretty good defense and we can all communicate well, and when we do that we can make stops," she added.