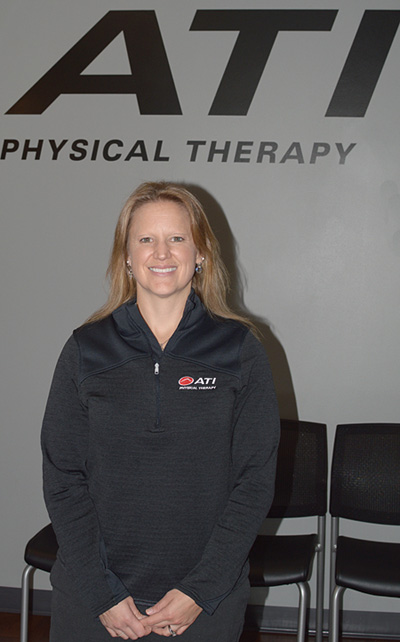 Lindsay Guth, ATI clinical director and physical therapist, is ready to serve patients at ATI's newest location, 9450 S. Northshore Drive in Knoxville.

ATI Physical Therapy has opened a clinic at 9450 S. Northshore Drive, across from Kroger, to provide a personalized physical therapy experience to the community.

ATI, which stands for Athletic & Therapeutic Institute, was founded by owner Greg Steil in 1996 and has locations in 25 states.

The Northshore location, which opened earlier this year, is one of its latest clinics.

"We provide outpatient physical therapy for primarily orthopedics," said Lindsay Guth, ATI clinical director and physical therapist at the Northshore location.

"But, we also see some pediatric and geriatric (patients) — the population is anywhere from young, old and basically anything in between," she said. "We see a little bit of everything."

Guth treats back, spine, sports-related knee, overuse/repetitive stress, foot/ankle, wrist/hand and forearm injuries, as well as pre- and post-surgical conditions.

The clinic also provides some vestibular pediatric (treatment), dry needling, a Parkinson's program and complimentary injury screenings.

"The location's great, being right off Pellissippi (Parkway), (having) easy access to several different towns and good exposure off Northshore (Drive)," said Guth, who moved from the Chicago suburbs in March and has worked with ATI since graduating physical therapy school in 2006. She was working there when she transferred to Knoxville to open ATI off Northshore.

Since Tennessee is a direct access state, Guth said patients do not have to have a physician script, or referral, to start receiving services, but they will need it within 30 days.

ATI Physical Therapy takes most insurance coverage, she said.

"We try to work with people's financial status the best we can," she said. "If we're out of network, we try to work with that, too."

ATI Northshore is open from 7 a.m. to 7 p.m., Monday through Friday, and closed Saturday and Sunday.

For more information or to book an appointment, stop by the clinic, call 865-251-0107 or visit online at ATIpt.com/.