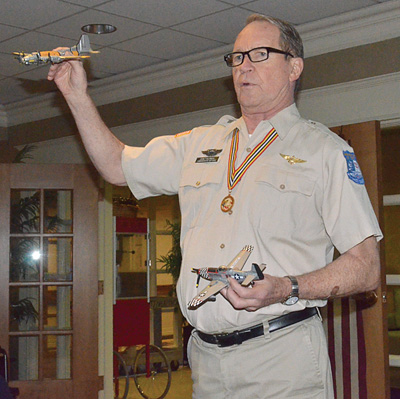 Frank Galbraith, former Farragut Middle School history teacher, has made it his personal mission to share his "Day of Infamy" presentation with the community, as he did Monday, Nov. 12, at NHC-Farragut. He will be presenting the program in Farragut Town Hall beginning at 7 p.m., Monday, Dec. 3.

Retired middle school history teacher Frank Galbraith said his blood "runs red, white and blue," and he spends a great deal of time proving it.

That statement is much more than sentiment, as he is on a self-imposed mission to educate the community about the historic past while also honoring the brave men and women who have served the United States in military service.

That ideology is most evident during this time of year, as Galbraith presents his "Day of Infamy" program detailing the events leading up to the bombing of Pearl Harbor, which plunged the United States into World War II.

It is well-publicized that the program will be at Farragut Town Hall this Monday, Dec. 3, as it has been for more than a decade. But what is not as well-know, perhaps, is that he takes the program on the road to local assisted living facilities.

He presented "Day of Infamy" at NHC-Farragut Wednesday, Nov. 12, the day following Veteran's Day, and will deliver it three times next week. In addition to Town Hall, he will be at Sherrill Hills Retirement Resort starting at 2 p.m., Tuesday, Dec. 4, and at Canterfield of Oak Ridge on Pearl Harbor Day, Friday, Dec. 7.

"It will be an exciting week for me," said the still youthful and active 77-year-old, who never tires of detailing the history of that conflict or how it came to ensnare the United States.

"I don't want people to forget what our country went through," he said. "It was the last time our country was united like that, behind a common cause.

"I also want to honor those [World War II] veterans who are left," noting few survivors remain of those who fought in that last "great war."

Given that fact, Galbraith wants to ensure their sacrifices are "never forgotten."

"Not everyone remembers what happened, and hopefully it will never happen again," he said.

His personal historical and patriotic mission was sown

during his nearly four-decade teaching career, primarily at Farragut Middle School.

"We used to teach Tennessee history for a good part of seventh grade, but they began to take [state] history out of the program," he recalled. "I went ahead and taught Tennessee history, incorporating it as much as I could" with the required curriculum.

He said he also spent two weeks "teaching on World War II." Then, after discovering he had a cousin who had died at Pearl Harbor, he said, "I spent a week on that" event, too.

After he retired, Galbraith worked in the community, sharing his historical knowledge and passion for veterans and patriotism. In addition to "Day of Infamy," he presents an additional program at NHC annually, which he has done for the last 20 years. Other historic presentations Galbraith shares include "Five Things that Changed the Course of WW II" and "Magnificent Tennesseans," which focuses on many of the state's famous native sons and daughters.

Galbraith also is an accomplished and well-known musician, and frequently incorporates music and song into the historical presentations.

"I really believe in our country, and I want to honor those folks," he said. "And as long as I can keep doing it, I will."

Galbraith's Dec. 3 presentation will be preceded by a reception for area veterans and tours of the Farragut Museum beginning at 6 p.m.