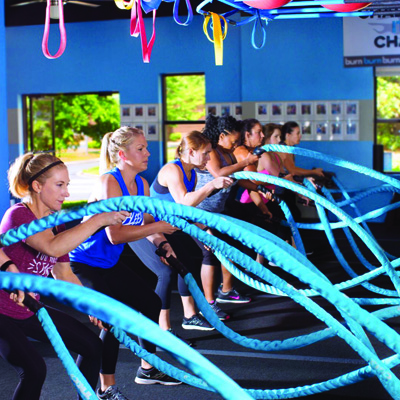 Burn Boot Camp members work out during a camp session in another location, using equipment also to be available at a franchise due to open around New Year's Day in Kohl's Plaza.

Farragut residents searching for an outlet to fulfill their resolutions will be able to head to Burn Boot Camp, a new gym opening for the New Year.

"People always have those New Year's goals they hope to obtain," said Kelly Kollar, Burn Boot Camp lead ambassador.

Franchise owner Kristy Smith of North Carolina expects the gym to open by New Year's Day in Kohl's Plaza, 11560 Kingston Pike, Farragut.

Burn Boot Camp primarily is a women's gym with morning and afternoon sessions, but Kollar said, "At our 5:30 and 6:30 p.m. camps, we are going to invite men as well.

"We want everyone to feel comfortable, create a really great community and help each other, whether it be in fitness or just kind of keeping each other going," she added. "We want it to be a friendly place. We don't want people to feel judged.

"Anyone can start here. You don't have to be fit to start here. You can start at any weight, any fitness level, and we'll make modifications for you until you're comfortable doing a workout every day."

The gym offers 45-minute high-intensity interval training, Kollar said.

"There will be stations (and) a lot of using your own body weight," she said. "We do have a pull-up rig; we have battle ropes; we have free weights."

However, she pointed out most of the workout is using one's own strength.

"All the camps are going to be led by a trainer," Kollar said. "They're going to go through all the motions, what you're going to be doing at camp, and they will be helping you on the floor as well.

"Our trainers also are going to offer nutrition guidance, we're going to have child care here, and also once you join Burn Boot Camp it's actually universal," she added, meaning the membership can be used at any Burn Boot Camp location.

The camps will be held at 5:30, 6:30, 8:30 and 9:30 a.m., Monday through Friday, with a break until it holds another camp at 4:30, 5:30 and 6:30 p.m. On Saturdays, the gym also will have a camp at 8 and 9 a.m.

"We will start it at the 8 a.m. camp and go through the rest of the day," she said.

The gym plans to hold focus meetings, which are one-on-one with each member to go over what her goals are, what she or he wants to get out of the gym and help the member set up an attainable goal, she said.

"Right now, if you go on our website, burnbootcampwestknoxville.com/, you can sign up for a 30-day free trial, which starts the day we open," she said. "They have to sign up on the day we announce we are going to open. We will make an announcement (of the opening day)," she added.

According to its website, the gym has 169 locations in 37 states, with the closest locations in Chattanooga and Nashville.

"We've actually had a lot of people who have traveled to visit friends or family and have checked out Burn Boot Camps in other places," she said. "Our owner, Kristy, went to the University of Tennessee, and she had a love for the area. She wanted to come back and open this location."

For more information, e-mail westknoxvilletn@burnbootcamp.com or call 919-600-4263.