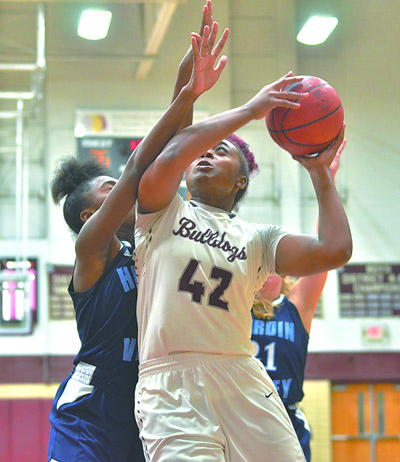 Jakhyia Davis (42), Bearden junior post, powers her way to the basket despite Harden Valley Academy Lady Hawks defensive pressure. The Lady Bulldogs cruised to a 65-39 victory.

KNOXVILLE — Throughout her career at Bearden High School, senior basketball standout Annaka Hall has made a habit of knocking down big shots.

Hall, a 5-foot-10 guard/forward, had another big game against a rival, scoring 26 points to lead the Lady Bulldogs to a 65-39 District 4-AAA win over Hardin Valley Academy at BHS Friday, Nov. 30.

"I thought we bounced back well after we lost here Tuesday (versus William Blount)," said Hall, who buried four 3-point shots.

Jakhyia Davis, junior post, scored 14 points and blocked multiple shots for the Lady Bulldogs (7-1, 2-1). Shekinah McLaughlin added nine and Zneyah McLaughlin scored six.

Malaka Grice, sophomore post, scored a game-high 20 points for HVA (1-6, 0-3). Kiara Inman added seven and Tori Adams had six.