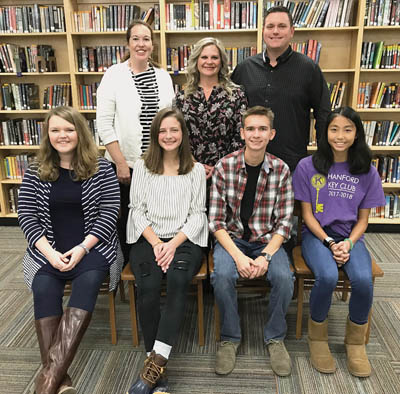 Farragut High School recently announced its November Stars of the Month. Seated, from left, are teacher Emily Brandel and students Avery Flatford, freshman; Alex Hensley, senior; and Cathy Hu, sophomore. (Not pictured is Gavin Wilkinson, junior). Back row, from left, are program sponsors Sarah Post of Patdome Promotions, and Teri Jo Fox and Eric Whitener of Fox and Whitener Crye-Leike Realtors.

Overcoming a physical challenge with a championship attitude, and cheerfully using your talents to help make your community a better place — qualities included in Farragut High School's November Stars of the Month.

Though freshman Avery Flatford has Cystic Fibrosis, "she is always very resilient upon returning to school from a procedure," Natalie Sisk, FHS science and wellness teacher, said about why she nominated Flatford.

"She never complains and does not like missing school. Avery works very hard academically and is always ready to participate on the days we are in the gym, whether it is the pacer or mile run.

"She is also a pitcher on the Farragut High School softball team and was the first softball player to receive the 'Team Boomer Female Athlete of the Year Award' last year. There is a reason she is called the 'Audacious Avery,'" Sisk added.

Susan Bolinger, FHS director of college counseling, shared her reasons for nominating senior Alex Hensley.

"Alex is likely one of the nicest students I have ever met. His teachers note he gives 100 percent of his effort to everything he does," she said.

"Alex led his Navy JROTC unit as a supply officer, logistics officer and is lieutenant junior grade. He has been involved in ROTC Leadership camp, the FHS Marching (Admirals) band and Boy Scouts," she added.

"In his free time, Alex volunteers to host dinners for military veterans, has helped with park clean-ups and works Thanksgiving feeding the hungry at The Love Kitchen. "Alex has been instrumental in helping the NJROTC program with silent auctions and spaghetti dinners. Alex is an outstanding candidate for this award and an outstanding young man."

November Star Athletes of the Month are sophomore Cathy Hu, Lady Admirals cross country runner, and Gavin Wilkinson, FHS football quarterback.

"Cathy Hu is a 10th-grade cross-country runner. She finished sixth in KIL, seventh in regionals and led the Lady Admirals cross-country (team) to a runner-up finish at the Large School state championship," FHS principal Ryan Siebe said.

"Gavin Wilkinson has led the football Admirals to a (Class) 6A state quarterfinal appearance. The junior quarterback has a completion percentage of over 70, comprised of 16 passing touchdowns and 1,700 passing yards through 12 games," he added.

November Star Staff Member of the Month is Emily Brandel, a math teacher (algebra and geometry) and FIRST Robotics co-sponsor.

"Ms. Emily Brandel joins the Farragut staff after teaching the past two years at Central High School," Siebe said.