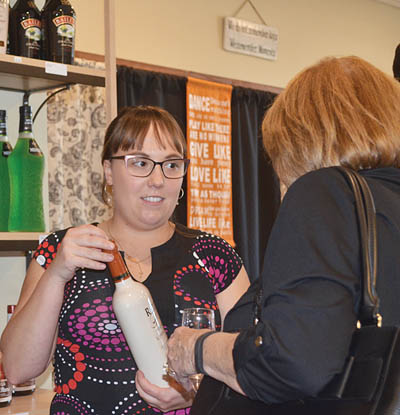 Knoxville Room Service owner Haley Krotz shows an eager couple just one of the extensive liquor and wine selections, which can be purchased in-store or delivered right to a customer's home.

Haley Krotz watched her boyfriend, Kyle Zellner, have a drink after work one night, and even though she is not much of a drinker she felt herself wishing for her own adult beverage.

"He just made it look so good, it made me wish I had something, too," Krotz said.

But it was late, and she said she didn't want to leave home, "even though a liquor store was just three minutes from the house."

The conundrum gave her an epiphany.

"You can get anything you want delivered to your home," she said. "Why not alcohol?"

That random idea became Knoxville Room Service, Krotz's business venture she recently opened at 10670 Parkside Drive, delivering alcohol and other amenities right to a client's doorstep.

Krotz said the business is very unique in that "there is nothing like us anywhere. We don't use third parties, and we offer so much more by having a concierge business concept."

All types and brands of liquors are available — from Scotch, bourbon, gin, Tequila and vodka — to a wide variety of champagnes, sparkling wines and specialty wines.

Knoxville Room Service also offers high-end cigars, mixers, bitters, bartending kits, glasswear, books, cards, desserts and elaborate charcuterie — including cheeses and smoked or cured meats. It even sells fresh flowers.

To get an idea of what is offered, clients may visit the store in person, call 865-299-3259, visit its website at knoxroomservice.com or its Facebook page.

"I have assembled a panel of experts to help our clients' experience," Krotz said. "Our target market is ... adults with discerning tastes."

She said a lot of clients have asked for her help in planning the alcohol aspect of their parties, whether it be rehearsal dinners or big birthday parties.

Orders must be placed before 11 p.m. Deliveries start at 2 p.m., she said, but added, "We will do deliveries for companies, business professionals earlier."

For dessert or charcuterie orders, Krotz needs at least a 48-hour lead time, she said.

Delivery fees are $5 in Farragut, Hardin Valley, or within a 5-to-6 mile radius of the store; $7 if more than 6 miles away and $9 for anyone 20 minutes away. There is no minimum charge as long as the order includes alcohol.