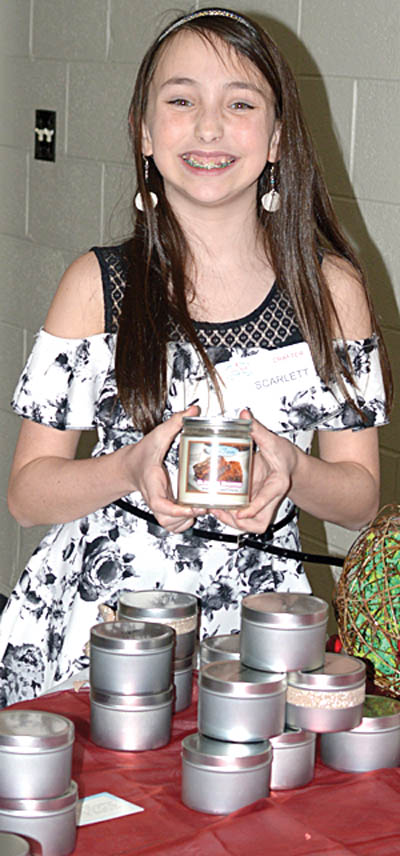 Scarlett Parrott

Scarlett Parrott of Farragut has started early learning about running a business.

The 11-year-old Farragut Intermediate School fifth-grader has started her own candle business, Clarafutura, which is Latin for "bright future," about two months ago and already has a niche in Pigeon Forge.

"She's getting the feel of what it's like to start a business," her father, Andrew Parrott, said.

Scarlett, also the daughter of Carrie Parrott, said she saw her 16-year-old sister, Olivia, work at Panera Bread to earn money to buy a car, but Scarlett didn't want to wait. "So, I decided to start my own business making candles," she said.

Their first attempt was earrings and other jewelry, Scarlett said.

"It turned out the time was a lot more in jewelry and it was more difficult (to make), and the margins weren't as good," Andrew said.

"It was a lot harder," Scarlett said. "Candles were just more fun."

"We were looking at crafts kids could do, and when we came across candles, she got excited," Andrew said.

Scarlett researched until she found the right scents, gathering supplies and finding containers, wax and prices.

"It's all her," said Andrew, who owns a marketing firm. "I just pour the wax for her. She made a pitch to a company up in Pigeon Forge that gave her an opportunity."

Scarlett came up "Blessed Brownie" scent for candles at The Crave Golf Club mini golf course.

"We've made some Frankincense; we've made Peppermint, Blessed Brownie, Lavender and a mix of lavender and peppermint (scents)," she said.

Scarlett also has supplied candles to The Sweet Shop and Big Rock Candy, and she sold candles at Faith Lutheran Church's Cookie Walk and Craft Fair with help from her 9-year-old brother, Jack.

"I also gave a gift (of a candle) to my teacher," she added.

As for early "bottom line" success, "She's already in the black," Andrew said.

For more information about the candles, call Andrew at 865-282-0847.