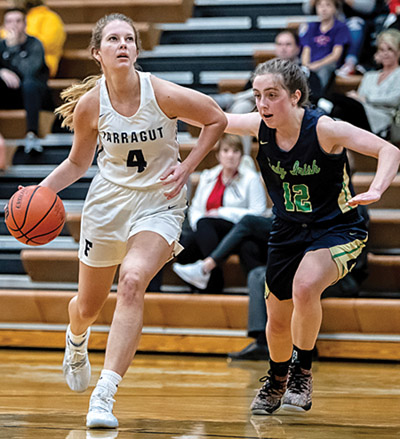 Farragut's Claire Wyatt tries to drive past Catholic defender Avery Laughtery. The Lady Ads breezed past the Lady irish Tuesday, Dec. 11, at FHS.

Jason Mayfield, Farragut High School girls basketball head coach, knew his team would face a battle Friday night, Dec. 14. And a battle it was.

"We knew this game was going to be tough," Mayfield said after the Lady Admirals ground out a 45-36 victory over Heritage in FHS's Lynn. E. Sexton Gymnasium. "Heritage has a good team, and it seems like when we play it's always close.

"It's always a battle. (Lady Mountaineers head coach) Rick (Howard)always does a great job. We were talking before the game about how tough this league is. It's really deep and you just can't ever take a night off."

In addition to facing a scrappy Heritage squad, FHS (10-3 overall, 4-2 in District 4-AAA) battled shooting woes. But the defense showed up ready to play as the Lady Ads forced the Lady Mountaineers (6-4, 3-4) into multiple turnovers.

Farragut entered Friday night's game having lost three of its last four games, and Mayfield said his team was now focused on defense after losses to Maryville, Bearden and Stone Memorial in a 10-day stretch.

"Since the Bearden game, and I hate to even bring that one up, we've been focusing on defense and we've been focusing on holding teams to single-digit quarters," he said. "I know that if we play defense, our offense will come because our girls are talented enough."

The Lady Admirals opened an early 9-6 lead and held a narrow 15-13 edge at halftime as both teams struggled to sustain any offensive momentum. Poor shooting and multiple turnovers stifled both offenses.

After halftime the offenses became a bit more potent as Farragut outscored the Lady Mountaineers 19-15 in the frame.

Farragut extended its advantage to six points, 34-28, when Madison Hodge nailed a shot at the buzzer.

The Lady Admirals heated up in the final frame and took a 41-28 lead when freshman Avery "Ace" Strickland scored with 4:45 remaining in the game.

The Lady Mountaineers then scored the next five points and pulled to within 41-33 with 2:14 left.

From there, Farragut would pull away despite not making another field goal, sinking four foul shots down the stretch.

Farragut had three players post double figures in the scoring column. Strickland led the way with 11 points, while Sydney Chapman and Brooke Christian added 10 points each. Morgan Carbaugh finished with eight.

"We knew that we were going to be in for a battle, especially when our shots weren't falling, and we knew that we had to stop this losing streak," Strickland said. "We knew they were tough.

"We knew they were physical and we knew that we were going to have to match their physicality, and we were able to do that and win. The energy from the team and our crowd really helped us."

Lauren Varitek led the Lady Mountaineers with 10 points.