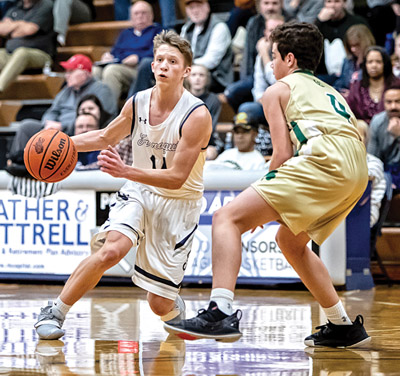 Mack Ratliff, Farragut guard, looks to make a move on Knoxville Catholic defender Presley Patterson. The Irish easily won this Tuesday, Dec. 11, District 4-AAA game in FHS's Lynn E. Sexton Gymnasium.

Wins have been hard to come by for the Farragut High School boys basketball team this season, as the young Admirals have struggled to find their way on the hardwood.

But the Admirals found their way into the win column Friday night, Dec. 14, when they notched a 62-53 victory over hapless Heritage in a District 4-AAA tilt in Lynn E. Sexton Gymnasium.

Farragut (3-10 overall, 2-4 in the district) may have prevailed, but the game wasn't without its anxious moments for the Ads. A 38-20 halftime lead nearly evaporated late when Heritage's Parker Rotherly heated up after halftime, scoring 10 of his 14 points over the final eight minutes.

The Mountaineers (1-11, 0-7) also got late contributions from Jacob Powell, who pulled his squad to within 49-41 with an old-fashioned three-point play with 6 minutes, 20 seconds remaining.

The Admirals actually started fast in the third quarter and expanded their advantage to 42-20 when Will Brown knocked down a lay-up with 6:25 left in the frame.

"We came out and we played really well. We got off to a good start in the game and then we came out and started fast in the third quarter," said Brown, a senior guard who lead Farragut with 18 points. "But I think we took our foot off the gas.

"We have a young team and we have a lot of underclassmen," he added. "We even have some upperclassmen who haven't ever played basketball at this level. As a senior and a leader who has played her for three years, I have to help these guys because this is such a tough district. Coach (Jon Higgins) has done a good job being patient. These guys are working hard and they're all doing the best they can."

"Anytime you get a win, it's good. A win's a win," Higgins said. "Every game is a learning experience for us. We're trying to get

to the point where we have that consistent effort throughout the game."

Farragut dominated things in the first half Friday night. The Admirals opened an 18-8 advantage by first quarter's end. They would expand that lead to 18 points by halftime.

FHS's scoring attack was balanced early and throughout the contest. The Ads buried seven 3-pointers over the opening 16 minutes and also got a lift in the post from junior Alec Keathley, who finished the night with eight points. Farragut knocked down nine long-range jumpers in the contest.

Brown was one of four Admirals to score in double figures. Freshman Isaiah Smith scored

14 points, 12 coming on four 3-pointers. Robby Geron added 12 points and Dillon Atwell finished with 10.

Peyton Burnette led the Mountaineers with 18 points.