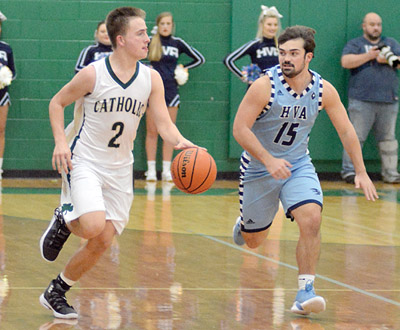 Sam Sompayrac, Knoxville Catholic sophomore guard, starts to push upcourt versus the defense of Hardin Valley Academy junior Preston Foster.

KNOXVILLE — Led by two freshmen and a sophomore, Mike Hutchens' youthful Knoxville Catholic Fighting Irish boys took total control early in the second quarter before pouring it on for yet another District 4-AAA victory.

Catholic stayed red-hot at the expense of Hardin Valley Academy, winning easily 71-41 Friday night, Dec. 14, at KCHS.

"We're a different team than we were the first week of the season," said Hutchens, head coach of an Irish team improving to 5-1 in District 4-AAA, 9-1 overall. That first week featured the only KCHS loss, which came at home versus district power Maryville.

"A lot of freshmen are starting to learn what's going on now," he added. "We're not where we need to be yet, but by the end of the year we will be a handful."

Brian Edwards, Irish freshman point guard, led all scorers with 16 points despite "sitting out the whole second quarter in foul trouble," Hutchens said. "Since the Maryville game, where he had nine points, I think he's averaged right at 21. He's really coming on for us."

Akeem Odusipe, 6-foot-9 sophomore post, added 15. His "twin-tower" teammate, 6-foot-11 freshman Handje Tamba, scored 13.

Other Catholic scorers were Presley Patterson with nine (all 3-point field goals), Sam Sompayrac eight, Connor Kuerschen five, Ryan MacDonald three and Walter Pickering two points.

Hardin Valley dropped to 5-6 overall, with two of those wins in 4-AAA games.

"The final score won't show how hard our guys played," HVA head coach Shane Chambers said. "We're missing three key guys, two 6-(foot)-5 and a 6-(foot)-3 guy, and when you're playing a team like Catholic with their size, it's tough to overcome.

"We didn't execute as well as we would like, even though the effort was there," he added. "And this being our third game of the week, I felt like we started to show being a little tired."

Cartez Campbell, senior guard, was the only Hawk in double figures offensively, scoring 10.

"Cartez Campbell and Bryce Jenkins are seniors who were in there fighting," Chambers said.

Allan Sumner added nine for HVA, followed by Jenkins with six, Wyatt Smith five, Tyson Adams four, Stokes three and Rob Krakoviak and Jack Niezgoda with two apiece.