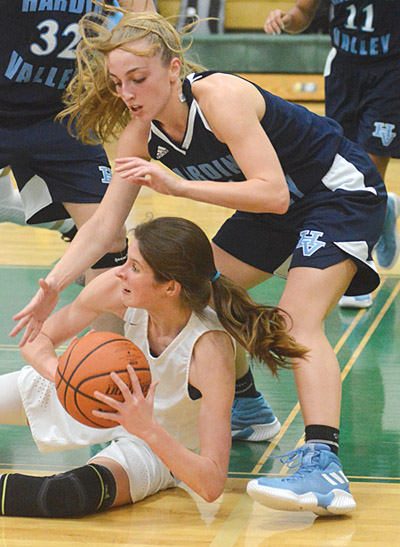 Mary Iverson, Catholic point guard, looks to pass while pressured by HVA guard Kate Bass.

KNOXVILLE — Hitting the boards more effectively and taking care of the basketball especially well in the second half, two elements helping Hardin Valley Academy's varsity girls win its first District 4-AAA game of the season.

Pulling away from a 16-10 halftime lead at Knoxville Catholic, the Lady Hawks (2-8) defeated the Lady Irish 47-24 at KCHS Friday night, Dec. 14.

"I thought some of the things that we've been working on in practice the last couple of days, they were able to bring and execute that in the ballgame," HVA head coach Jennifer Galloway said. "Mainly defensive stuff with our on-ball defense and some of our help-side defense.

"I thought what helped us more in the second half was that our rebounding was better," she added. "We were able to catch the ball clean and get out some in transition."

Sophomore forward Malaka Grice scored all 12 of her points in the second half. Kate Bass added 11, followed by Viktoria Emery with eight, six each for Allie Sexton and Maddie Norris, and two points apiece for Kiara Inman and Avery Laughtery.

Individually, "I thought that Allie Sexton, our point guard, I thought she did a good job running the team tonight," Galloway said about the junior. "I thought she was very comfortable with the ball in her hands."

As for the first 10 games, "We've been seeing overall improvement all year," Galloway said. "Our girls are improving on their skills and improving on their chemistry with each other.

"And mostly improving with experience."

Though the Lady Irish remain winless in district with just one overall victory, "I thought in the first quarter we played well defensively," KCHS head coach Freeman Pinkney said about allowing just four points (4-3 deficit) after eight minutes. "We're really trying to focus on holding teams to 15 points a quarter. We've come close to that throughout the year so far."

Individually for Catholic, Pinkney pointed out Mary Iverson, senior point guard (a team-leading 15 points Friday) who has bounced back from a season-ending knee injury in 2017-18.

"She takes care of the ball and she's averaging a double-double, 15 points and 10 rebounds (per game)," he said. "More than talent with her, it's heart, it's work ethic and it's being a coachable player."

Other Catholic scorers were Hannah Southall with three points, and two each for Kennedy Ann Noe, Samantha Kaczmarek and Emily Pichiarella.