Lions looking to improve team 'shape'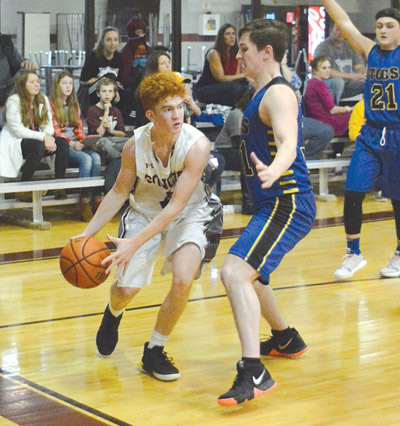 Josh Gilder, Concord Christian School boys guard, looks to drive baseline on a Tri-Cities Christian School defender during this Saturday, Dec. 15 game.

On one hand, head coach Scott Graham in encouraged about his Concord Christian School boys varsity basketball team despite its 2-7 overall record.

"I think the guys have responded, and it's going to start showing up on the court soon," Graham said following loss No. 7, a 72-50 home setback versus Tri-Cities Christian School Saturday afternoon, Dec. 15. "But it hasn't yet."

With victories versus Faith Christian Academy and Mt. Pisgah Christian Academy, "We've showed a lot of growth, and we're playing a lot of good teams right now," he said. "I think it'll come together."

However, "I think today was a testament to us being tired and needing to get in better shape," Graham added. "… We're looking for winter break to be a big break for us, get a little rest then get in better shape and come back in January."

Against TCCS, D. McGlone led the Lions in scoring with 13 points, followed by Bryce Baxter, Josh Gilder and Eric Bachman with seven each/ M. Alford scored five, while Gavyn Gregg, Harry Pennoyer and Walker Simpson each scored three. Chase Johnson added two points.