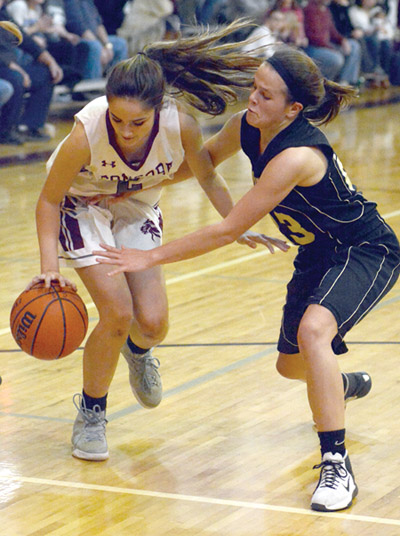 Sydney Petersen, Concord Christian School freshman guard, left, tries to gain control of the ball despite tight pressure from a KACHEA defender. The Lady Lions look to improve on a 2-7 start to the 2018-19 regular season.

Oh so close to victory last Saturday afternoon at home, the Concord Christian School Lady Lions are "learning how to trust each other. We haven't played together that much."

That's according to CCS head coach Shane Mynatt following his team's 37-36 home loss to Tri-Cities Christian School Dec. 15, dropping the Lady Lions to 2-7.

Three Lady Lions reached double figures in scoring, led by Kylie Phillips, freshman wing, with 11 points. Madi Mee, junior guard, and Liz Dawson, senior post, each scored 10, while Ashley Penland, junior forward, had three points and Savannah Mynatt, senior post, added two.

Despite a loss at J. Frank White Academy in Harrogate Friday, Dec. 14, "Ashley ended up with about 25 points," Mynatt said about the junior. "We've got three ladies, as far as scoring is concerned, who have been really consistent for us. Maddie Mee, she gives us about a dozen (point per game)."

While losing a one-sided affair versus Division II-A state powerhouse Webb School of Knoxville, "the other six losses we've had are games we've been (competitive) in, and we should have just pulled those games out," he added. "It's just been a matter of trying to put together two halves. And we haven't done it yet."

One good half has been enough to grab victories versus Faith Christian Academy and Maryville Christian Academy.