Patrick Wilson doesn't disappoint Farragut-area fans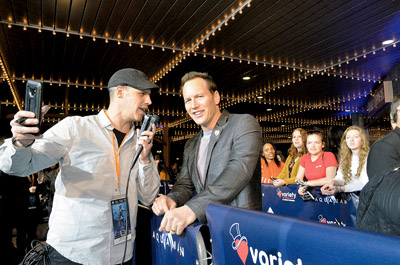 "Aquaman" co-star Patrick Wilson, right, walked the red carpet while signing autographs, taking selfies with fans and answering local media's questions last Thursday, Dec. 13, at Regal Pinnacle Stadium 18 IMAX & RPX Theatre in Turkey Creek. He is being interviewed by Justin Scheman, an early morning Knoxville radio personality.

Movie, TV and Broadway star Patrick Wilson did not disappoint fans Thursday, Dec. 13, as they waited patiently for the "Aquaman" co-star to make his red carpet appearance at the movie's premier at Regal Pinnacle Stadium 18 IMAX & RPX Theatre in Turkey Creek.

Wilson was patient in return, as he paused, conversed, signed autographs and took numerous selfies with those who had paid for the VIP experience to benefit Variety - The Children's Charity of Eastern Tennessee.

Episcopal School of Knoxville students Lily Egner and Lily Young, both 12, were excited to see both Wilson and the film.

"I like the comic books," said Egner, while Young said she "wanted to be here for the VIP experience."

Mark Bailey of San Antonio, Texas, said he had attended Regal Premiers in the past, as his company works with the movie distribution giant.

"I enjoy these events," he said. "It is a chance to meet movie stars, but it is also a chance to support my customer and their fundraiser."

Wilson was self-deprecating and down-to-earth, as he answered questions posed by local journalists, including one where he was asked what his sons thought about him being so famous.

"They don't think about it because I'm not famous," he cracked.

Not a true statement, but even if it was, all that should change with this new role, as Wilson co-stars in the big-budget superhero comic book film, which opens nationwide Friday, Dec. 21.

He plays the villain and

half-brother to "Aquaman," portrayed by relative newcomer Jason Momoa.

Wilson, however, is no newcomer, as he conquered Broadway early in his career, garnering high praise and two Tony award nominations before heading to Hollywood, where he quickly conquered the big screen in films including "The Conjuring" franchise, "Phantom of the Opera" and "Insidious."

He also made a large impact in television, earning Golden Globe and Emmy nominations for the HBO mini-series, "Angels in America," and the FX series "Fargo."

Wilson brought his wife and two sons to the premier in what he later said was his "first trip to Knoxville" and commented "it is a beautiful city."

Wilson said his grandfather had been a "die-hard (Tennessee) Vols fan" when he spoke to VIP audience members, who were able to screen the film in one of three theaters set aside for the special occasion.

He also addressed his "Aquaman" role, as he asked the audience to "cheer for the bad guy," which they did as he first appeared on screen.

Regal, which is headquartered in Knoxville, is a subsidiary of the Cineworld Group and operates one of the largest and most geographically diverse theatre circuits in the United States, according to its web site.

Regal founded the local chapter of Variety-The Children's Charity in 2001 and has supported it most notably by holding movie premiers featuring big name stars such as Tom Cruise, Jack Black and Channing Tatum, among others.

The charity is described in a press release as "a multi-million dollar organization that empowers children

with special needs to grow,

socialize and express themselves independently."

Regal estimated more than $10 million has been raised for the local charity over the years, with roughly a half-million dollars coming from last week's premier.