Around 170 fathers respond for breakfast with a special message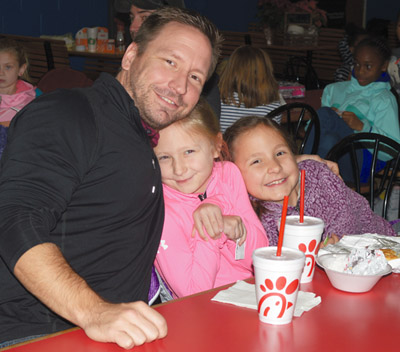 December's All Pro Dad breakfast program offered Keith Galloway an opportunity to spend time with his daughters, Reese, 7, and Sarah, 9, both HVES students.

Hardin Valley Elementary School fathers are joining their children for breakfast, quality time and to offer a message.

Around 170 fathers and their children gathered before school started in the cafeteria Friday, Dec. 7, for the All Pro Dad monthly program.

At each breakfast, a parent will offer a message, such as "being kind," to the children, and prizes are given at the end.

"It's great," said Trey Wagner, father of fifth-grader Addison and third-grader Zayd. "(The program is about) having breakfast with the kids.

"I don't always get to do that," adding All Pro Dad gives him the opportunity to spend time with his children and ask them about their day, their lives and school.

"I'm glad he's here," said second-grader Bryson Farmer about his father, Caleb Farmer.

"It's very special," said Jody Rayburn, father of second-grader Georgia Rayburn. "We haven't missed (an All Pro Dad breakfast). We started attending last year.

"We always look forward to spending that extra time together."

"It's her favorite time of the month," Matt Stevens said, referring to his 7-year-old daughter, Claire Stevens, a first-grader. "She loves the food and prizes and she enjoys the camaraderie with her dad."

"It's really good to see the smiles on the children's faces and be able to present a message we hope the kids can carry on," said Shaun Fomby, who has two daughters at HVES: Kaela, a fifth-grader, and Kelsie, a second-grader.

Fomby presented the message at the December program, while Kaela helped give out prizes.

Chris Keim, who heads the All Pro Dad chapter at HVES, has been in charge of the program for three years.

"Before that, one of the teachers started it," said Keim, an HVA PTO member.

Although the breakfasts are held at 6:30 a.m., Keim pointed out she hears no complaints.

"The kids loving bringing their dads to school," she added.

HVES' next All Pro Dad event will take place Friday, Jan. 25.

"We are a group of dads dedicated to strengthening our relationship with our kids," HVES' All Pro Dad Chapter's website stated.

"All Pro Dad is a national program that was started in 1997 by (National Football League) coach Tony Dungy," Keim said.

The program is part of Family First, a national, non-profit organization based in Tampa, Florida. Mark Merrill, All Pro Dad president, launched it with help from Dungy, former head coach of the 2006 Super Bowl champion, Indianapolis Colts.

HVES' program started with 30 people who met in the library, but it eventually outgrew that space and was too much work for the founding teacher, added Keim, who now holds the All Pro Dad breakfasts once a month in the cafeteria with help from Keim's family and Leslie Cragwell, a PTO member and volunteer.