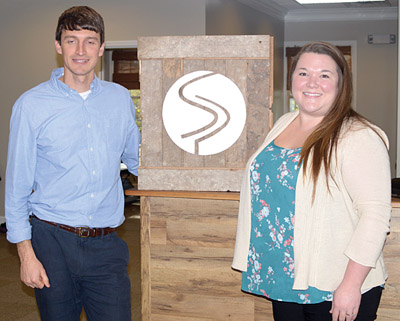 Dr. Mark Chesney, owner of Simply Physio, and his office staff member, Ashley Carroll, are accepting clients at his practice, 111 Loudon Road behind Jet's Pizza in Farragut. This physical therapy center will celebrate its first anniversary Wednesday, Jan. 2.

When Dr. John-Mark Chesney opened Simply Physio almost a year ago, 111 Loudon Road behind Jet's Pizza in Farragut, he wanted to provide a different, more personal approach to physical therapy.

"We are really focused on how we can give more to our clients," he said. "For me, it's not how I can see more people a day; it's how I can give more to the clients I have."

He said while most physical therapy clinics see a little bit of everything and treat everybody, he said, "I really wanted to offer more of a specialty service when it comes to physical therapy."

Chesney specializes in helping people ages 45 to 60-plus get back to an active lifestyle, while at the same time, avoiding surgical procedures and pain medications.

Chesney, who opened the physical therapy center Jan. 2, 2018, grew up in Knoxville, received his undergraduate degree from Clemson University in South Carolina, and his doctorate from University of Tennessee, Chattanooga.

"Growing up, I had some sports injuries, and my aunt is a physical therapist," Chesney said. "I really just took an interest and was just fascinated with the human body, how it works and when it doesn't work like it's supposed to."

Before moving back to the area and opening his own practice, Chesney worked at a hospital outpatient office and worked for other companies for 10 years.

Then, "my desire grew to open a practice that's a little different," he said. "I'm focusing on the value. The way people experience that, first, is from the very first phone call they have with us," explaining he takes time to ask questions and listen to the callers.

"People understand the difference because it's not how quickly we can get them scheduled for an appointment; we want to really understand their story," Chesney added. "One of my favorite questions is 'tell me more.'

After that initial phone call, "we invite them to come in for a discovery visit," Chesney said. "This is a free, no-obligation time to come in and chat with myself, the provider, to make sure I'm really the best one to help them."

Simply Physio is open from 7 a.m. to 6 p.m., Monday through Friday. For more information, call 865-351-0615 or visit his website at simplypt.com.