Foes fall versus Lady Ads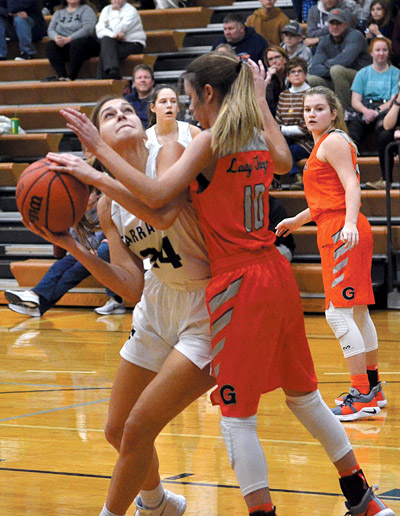 Looking to power over a Grainger County defender and score in the paint is Lauren White, 24 Farragut junior post.

Morgan Carbaugh led the way offensively for her Farragut Lady Admirals against Grainger County

Friday night, Dec. 21.

While the senior wing scored a team-high 15 points, it was Morgan's sister, Saige, who got hugs from her teammates after hitting a long-range jump shot.

Saige's bucket represented the final points in the Lady Admirals' 51-32 victory in the inaugural 5 Star Preps Christmas Classic in FHS's Lynn E. Sexton Gymnasium.

"I was really happy to see her hit that shot," Morgan said.

It was the second consecutive victory for the Lady Ads versus quality competition.

FHS toppled previously undefeated Campbell County 67-48 in its Classic opener Thursday, Dec. 20. Morgan's team-high 24 points led the way offensively.

"These wins were big for us because these were wins against good competition," FHS head coach Jason Mayfield said. "... These two teams were a combined 26-1 coming in."

While Farragut's offensive rebounding set the tone early against Grainger, freshman Ace Strickland scored 13 points. Claire Wyatt added eight and Sydney Chapman had five.