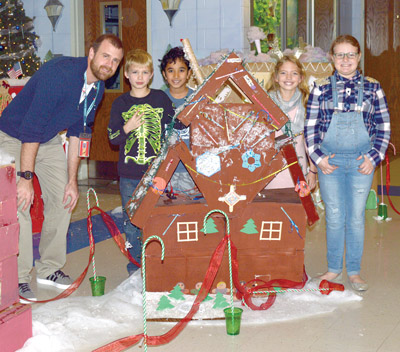 Brian DeBolt, Hardin Valley Elementary School fourth-grade teacher, joins his students, from left, Kayiden Dudley, Rohan Nathawat, Ava Woodyatt and Kaitlyn Blume in front of their gingerbread house.

Hardin Valley Elementary School STEM students showed their ingenuity Wednesday, Dec. 19, when they were challenged to design and construct 4-foot gingerbread houses, creating a village in the school's entry hallway.

Eleven classrooms, which had about 25 to 30 students each, participated in the challenge, STEM teacher Jessica Everitt said.

Youngsters took cardboard, Styrofoam, fuzzy balls and strings of lights to create a winter wonderland.

As this was the first year for the STEM class, Everitt said, "I was impressed with how they did."

Students were expected to make a gingerbread house at least 4 feet tall, have a light source on each floor and be free standing and decorative.

The houses could be made of any material they chose, with cardboard being offered through the STEM class. All the houses had to be delivered to the school no later than Dec. 17.

"It was open to (kindergarten) through (fifth-grade), but the main participants were one entry from second grade, one entry from third, several from fourth and the rest from fifth," Everitt said. "The challenge was issued at the beginning of December.

"I sent out standards to each grade level for teachers to know what math,

science and reading standards could align and some ideas they could tie in," she added. "Fifth-grade even started talking about architecture of different time periods.

"I was hoping the students got a hands-on experience with science and math standards."

Everitt said the project also gave teachers an opportunity "to embrace STEM in the classroom and engage students in a meaningful activity."

Fourth-grader Marrett Beckler said students divided into different teams or groups, such as design or construction.

"The construction team came up with what we wanted to do with the house," Marrett said. "The designing team decided what it wanted to add to the house to make it really good."

As part of the designing team, she was in charge of making gumdrops out of paint and Styrofoam.

"Then we added glitter to them," Marrett said.

Out of the exercise, she learned how to take materials, such as the Styrofoam, and design them into "gumdrops."

Fourth-grader Zander Bryant, on a construction team, said he learned "there's some things you can try to do but do not work."

Grant Thomas, a fourth grader also on a construction team, said he learned how to work together with other people and "don't give up. You can do things you don't think you can."

Fourth-grader Bella Anderson, who was on an electrical team, said she learned persistence and "if things don't work, then usually there's a way you can make it work."

Second-grader Mathis Refringer said she learned math principles.

Besides learning about STEM components, the youngsters said they also learned about teamwork.

Fourth-grader Kayiden Dudley learned to be careful with electricity from direct experience.

"I shocked myself," she said.