Knoxville Fine Homes Realty expands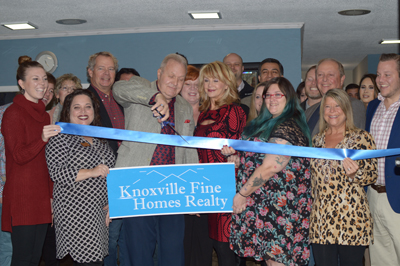 Knoxville Fine Homes Realty held a ribbon cutting, hosted by Farragut West Knox Chamber of Commerce, at the realty company's new offices in Suite 330, 11020 Kingston Pike Friday, Dec. 14. Employees pictured were Bob Brock (front row, with scissors); his wife, Sandy Brock (beside Bob); realtor Danielle Jackovich, second from left; agent Jay Beeler, third from left; agent Deena Romer (between the Brocks), Amy Chandler, marketing, second row fourth from right; Renzo Huerta, back row; agent Tiffany Robb, third from right; and Ed Harrison, second from right. They joined various Chamber members.

With Knoxville Fine Homes Realty's move into a larger, more efficient space at Suite 330, 11020 Kingston Pike, it celebrated with a ribbon cutting, hosted by Farragut West Knox Chamber of Commerce, Friday, Dec. 14.

"The Lord has blessed us," said Bob Brock, the agency's owner and realtor. "We've had good growth, and we have a great group of agents."

His wife, Sandy Brock, said the move gives the agency more efficient space to grow and serve their clients.

Brock, who worked more than 30 years for Farm Bureau, has been in the real estate business for 14 years.

The owner said he was influenced to go into the field by "the queen of real estate," the late Judi Starliper, a 40-year veteran with Realty Executives.

"I worked with her at Realty Executives," Brock said.

He started his own agency five years ago with four agents. Brock now has 21 realtors at KFHR.

Meanwhile, he became a broker a year ago.

"I like people and building relationships," Brock said, adding about his clients, "We believe in the philosophy, 'You treat them right and build the right relationships and you'll be friends forever.'

"That's the best referrals you can get."

The agency's professionals are members of National Association of Realtors.

One client stated on the KFHR Facebook page: "My husband and I had a house that had been on the market for several years with a few different realtors," the client stated. "I have known Bob personally for years and told my husband that we should give him a call to list the house.

"He agreed and we called Bob. We had an offer on the house with in 30 minutes and closed on the deal in about three weeks," the client further stated.

"We would definitely use Bob again and were very happy with the sale."

In addition to the larger space, the new suite offers better visibility, as the agency now fronts Kingston Pike, Brock said.

However, most of the agency's clients are repeat customers, Sandy said.

"I'd say 78 percent of the business is repeats or referrals from current customers," Brock added.

For more information about the agency, visit online at knoxvillefinehomesrealty.com, e-mail to bobbrock@knoxvillefinehomesrealty.com or call 865-675-3788.