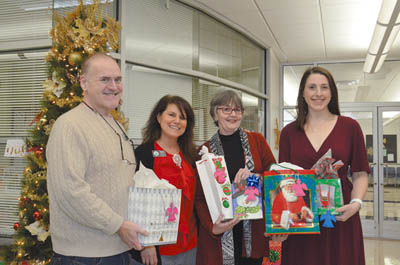 Strang Senior Center jumped at the chance to help provide Christmas gifts this year for elderly victims of crime who are working with the newly-established Rise Above Crime Program. Pictured with just a few of nearly 40 gifts collected are, from left, Darrell Gooding, Strang Center coordinator; April Tomlin, Knox County Senior Services manager; Kate Sultan. gift coordinator and volunteer; and Emma Parrott, manager of the Rise Above Crime Program.

Volunteers at Frank R. Strang Senior Center are making sure senior citizens victimized by crime will have a very Merry Christmas this year.

Knoxville newcomer and senior citizen Kate Sultan headed up the gift drive after learning of the newly-launched Rise Above Crime Program through the CAC Office on Aging.

"I used to have a little store in Denver, and we used to adopt low income or seniors at Christmas, and provide gifts the (recipients) had selected, and I wanted to do that here," Sultan said.

"The hardest part was finding a group to do it for," she added, noting most organizations she contacted already were fully provided for at Christmas time.

But then came Sara Mary Wallace. Working with the Office on Aging while serving as a liaison between the office and Knox County Senior Centers, Wallace put Sultan in touch with Emma Parrott, who had started the RAC program earlier this year.

RAC is a free program that supports seniors victimized by any type of crime and abuse, including physical, sexual, psychological, neglect, economic exploitation and fraud.

Parrott said the program does not investigate crimes — it leaves that job to law enforcement and the legal system — but it does offer a wide variety of benefits and helps victims through education, case management, legal advocacy and counseling support, and also refers them to additional services if necessary.

"Elder crime is a huge problem," said Parrott, who added individuals may be victimized by relatives, caregivers or even strangers who attempt to scam seniors of their money. "Only 1 in 23 crimes are even reported."

April Tomlin, Knox County Senior Senior Services manager, said her office is working closely with RAC and noted senior centers are a perfect place for victims to find help and guidance.

"If anyone feels unsafe they can always come to a senior center," said Tomlin, who oversees six centers throughout the county. "They are so full of resources. And our staff really gets to know people, so they are able to help, too."

"What surprised me was that this program was only started in August, but they already had over 50 clients," said Sultan, who approached Tomlin about providing gifts.

"We do give gifts for members of the senior population who are in need, and we thought this was a great way to do that," Tomlin said.

Sultan "brought in the tree and the angels" — ornaments to be taken by volunteers and brought back with the specified gifts — Tomlin said.

"They were all gone almost immediately," Sultan said.

"Our [RAC] caseworkers referred clients for the gift giving," Parrott said. "And all the gifts they requested were such minor items, such as Kroger gift cards, pajamas, warm scarves and warm blankets."

The gifts were returned to the Strang Center two weeks ago, then were given to RAC caseworkers for distribution.

"This has been my Christmas gift, to me," said Sultan. "It always made me feel good in Denver, and I wanted to do that here. People are good, and [providing gifts for others] makes a lot of others feel good, too.

Sultan may have started a trend, as Tomlin said she would like to see each senior center adopt a different organization to provide gifts for next year.