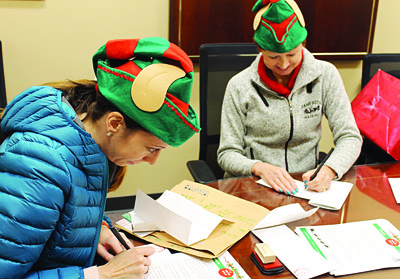 Farragut's volunteer elves, the daughter-and-mother team of Kylie Pearse, left, and Linda Pearse, answer Letters to Santa from children who communicated their North Pole wish list through the Town's Letters to Santa project this holiday season.

This year's Letters to Santa project by Town of Farragut was a big success, according to Wendy Smith, Farragut Public Relations and Media coordinator.

"We had 17 elves who volunteered their time to answer letters," Smith said.

"That was so much fun," said Farragut's Unsung Navy volunteer Linda Pearse, who helped answer the letters. "Some had drawings of reindeer, and some (children) said they were going to leave cookies and gave Santa something to take care of the reindeer.

"The most fun was words that were misspelled, and some took time to get their letters just right," she added. "I'm sure they were really excited to get personal letters from Santa."

Beth Fletcher, who volunteered to pick up the letters each business day, estimated there were about 500 letters altogether.

Smith said volunteers answered 457 letters. Additionally, "Santa" received 211 letters with no return address.

"It's been fun and to have so many people participating in this," Fletcher said. "It's really taken off this year, and the letters are always cute."

This is the second year the Town has extended a public invitation for Letters to Santa, Pearse said.

"A great thing about living in Farragut is you can find a way to engage (in the community) with the letters," she added.