Four generations have enjoyed 35 years of famed chicken salad, family bonding at Apple Cake Tea Room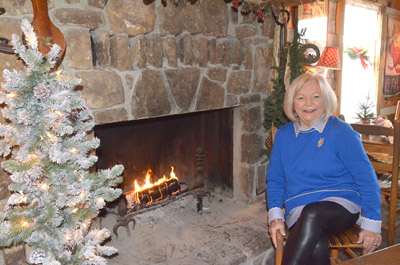 Apple Cake Tea Room owner Mary Henry quietly celebrated 35 years in business in 2018.

The oldest and longest-operating restaurant in the Town of Farragut quietly celebrated a milestone in 2018.

Apple Cake Tea Room along Campbell Station Road marked 35 years in business in 2018, having first opened its oaken doors in 1983.

The warm and welcoming ambiance, with an oversized centerpiece stone fireplace and cozy wooden tables and chairs, has not changed much since owner and life-long Farragut resident Mary Henry went into business.

Although not having a restaurant background, Henry saw the log house — one of three being constructed along Campbell Station Road — and thought it would be a good, homey location for a restaurant.

"There was already going to be a gift shop (in one of the log buildings) and it just seemed like a good idea," she recalled. "There was nothing around here then, where you could get a nice sit-down meal."

Henry quickly decided a restaurant offering lunch would be the best fit, both for her as a business owner and for the rustic location.

"We decided to call it a tea room because we would only be open for certain hours, and we would only serve certain things," she said, noting business hours are from 11 a.m. to 2:30 p.m., Monday through Saturday.

Of course, the menu featured apple cakes and tea, but Henry quickly discovered another key offering is the restaurant's famous chicken salad, which is included in its Tea Room Medley.

"That is our biggest seller and everyone's favorite," said Henry of the platter, which features a scoop of the made-fresh-daily chicken salad with glazed fruit and cream cheese sandwiched between banana nut bread and chips.

"It is delicious, and people always ask for it even when they may not remember its name," she added.

The restaurant has many other food offerings including soups, salads, a large sampling of sandwiches and many teas and desserts.

"We sell a lot of cakes, especially during the holidays," she said.

Apple Cake Tea Room always has been a family affair, with Mary's husband and business partner, Ralph Henry, making any and all repairs, and the couple's daughters, Angie, Katie and M.J., — all of whom, along with their parents, are Farragut High School graduates — having worked many years at the restaurant before settling into their own careers.

"They still help me when they can," Mary Henry said, adding many of her daughters' friends have come to work for her.

She said she is proud of the fact that so many teens counted working at Apple Cake Tea Room as

their first jobs. Henry also is gratified that so many of her employees have come — and stayed.

"Dorothy, our hostess, has been here since 1986 — she's been here almost as long as I have," she said. "First, she was a dishwasher, then moved into the bakery, then she started hostessing," a role she has now held for 28 years.

Henry even had one employee whose daughter now works at the restaurant.

Within those work relationships, and among the many customers, "something happens every single day that you can laugh about," Henry said.

"I think laughter is what keeps you going."

While she said many of the regulars are older ladies, men also are among her culinary fans. And her appeal is not only local and regional. Henry said she also has many return customers who at one time just wandered off the Interstate — thanks to a prominent sign on the restaurant listings — and insist on taking the detour every time they come through.

Henry also has built the Tea Room's sterling reputation as a gathering place for parties,

bridal showers, birthday parties, family reunions and holiday get-togethers.

Henry has been in business so long she now has seen up to four generations of family members who have enjoyed the atmosphere, food and care they receive at the restaurant.

"One of our draws is that comfort, coziness and friendliness they find here," she said. "I just enjoy people and I enjoy being with them. We have so many friends and have made so many friends, and they just enjoy being able to come here and relax for an hour or so."

Customers have certainly come to trust and confide in Henry in other ways, too.

"My prayer list is very long," she added.

Henry said she has often considered what the future may bring.

At 71, "As long as I stay healthy and still enjoy it, I will be here," she said.