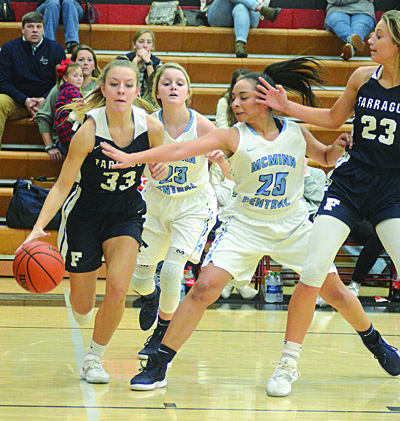 Sydney Chapman, Farragut Lady Admirals senior wing (33), drives baseline against the McMinn Central defense while FHS teammate Brooke Christian (23) reacts to the play. The Lady Admirals won 77-46.

MARYVILLE — While capturing third place among a strong eight-team field in the 2018 Renasant Bank Christmas Tournament, Jason Mayfield's Farragut Lady Ads simply destroyed a Class AA perennial state power program.

Jumping ahead 27-7 in the first quarter against McMinn Central, Farragut cruised to a 77-46 victory in the third-place game Saturday afternoon, Dec. 29, at Maryville High School.

"I was really proud of our effort. We had a really strong effort across the board from everybody," Mayfield, Lady Admirals skipper, said. "Our players are filling their roles really well."

Farragut enters 2019 with a 14-4 record.

Morgan Carbaugh, FHS senior guard, led all scorers with 21, followed by Avery "Ace" Strickland, freshman guard, with 15 points. Brooke Christian, Lady Ads senior wing/post, scored 14, while Claire Wyatt, junior wing, added 12 points.

"Brooke Christian, the last couple of games, has really come on," Mayfield said. "We've needed an inside presence, and Brooke has really done that."

Thanks to his team's depth, "With Keeleigh Rogers out, our other point guard, Madison Hodge, has really stepped up," the coach said about the junior. "She's done a really good job of playing defense and guarding the point guards, and getting us into the right things."

"I thought it was a really good team win," Hodge said about beating the Chargerettes. "We just need to come together and work hard."

Following an easy 70-36 victory against Cosby during Renasant opening round action Thursday, Dec. 27, the Lady Admirals took a shot at upsetting Class AAA state power Murfreesboro Blackman in the semifinal round Friday, Dec. 28. The Lady Blaze won 54-42.

"Blackman was definitely a very big test for us, and I think we performed very well," Hodge said. "It'll be good for us moving forward."

Strickland led FHS in scoring against Blackman with 15 points.

Against Cosby, Farragut sophomore guard Macy Barnes led all scorers with 16 points.

"It was difficult coming off (the Blackman) loss," Mayfield said after beating the Chargerettes. "We wanted to not only make that championship game, but beat Blackman, a team that is known across the state for being a strong, strong program."

followed by Wyatt and Strickland with 11 each. Carbaugh added 10 points.