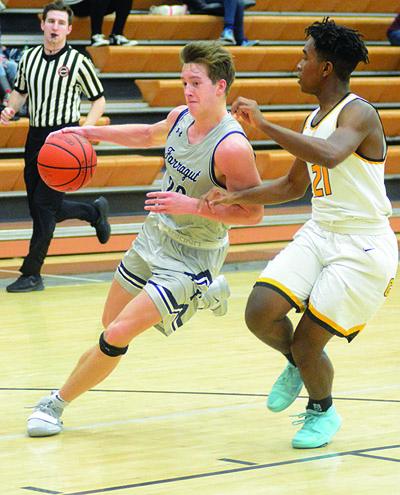 Will Brown, FHS senior wing, drives to the hoop versus David Crockett.

MARYVILLE — Beaten decisively by powerhouse Fulton, then falling apart offensively in the final quarter against Powell, Farragut was especially motivated to end the 2018 portion of its basketball schedule with a tournament victory against David Crockett.

"We didn't want an extra mad coach (Jon) Higgins for practice," said Robby Geron, junior guard, following the Admirals' 47-30 victory against the Pioneers in the seventh-place game of the 2018 Renasant Bank Christmas Tournament at Maryville High School Saturday afternoon, Dec. 29.

While saying FHS practices are never easy, Geron added about his head coach, "We want him to be happy for practice. Practice would not have been very fun if we had gone 0-3 in this tournament."

Farragut (6-12 record) took control early at 15-4, but saw David Crockett pull to within 22-18 at halftime.

The Admirals' 11-0 run to begin the third quarter — holding DCHS scoreless for more than five-and-a-half minutes — was never answered by the Pioneers.

"That's what we talked about before the game: 'let's just make sure we finish this week on a positive note,'" Higgins said. "Going out there and making some shots today was important for us."

Farragut was led in scoring by senior wings Will Brown and Jude Wren with 13 points each. Jake Wallace, sophomore post/wing, added seven for FHS, followed by Dillon Atwell, freshman guard, with five. Geron and Carter Mayfield scored four points apiece.

"I thought we played really hard defensively," Higgins said. "And I thought we rebounded the ball really well this game, which is something we haven't done in a while.

"We needed a win to end it off."

Individually, "I thought Robby Geron had a pretty decent tournament," the coach said. "Robby did a good job of attacking the basket and trying to make things happen that way.

"I thought Dillon Atwell played really well against Fulton the first night," Higgins added. "I thought Jake Wallace played real well for us tonight. Will Brown played real well for us tonight."

Farragut looked to bounce back offensively after scoring just one point in the fourth quarter against Powell Friday, Dec. 28 (40-29 loss). The Admirals led the Panthers 28-27 after three quarters.

"I felt we let one slip away yesterday," Higgins said after Saturday's win. "We defended pretty decently in that game."

Farragut fell versus Fulton 73-43 in the tourney opener Thursday, Dec. 27.