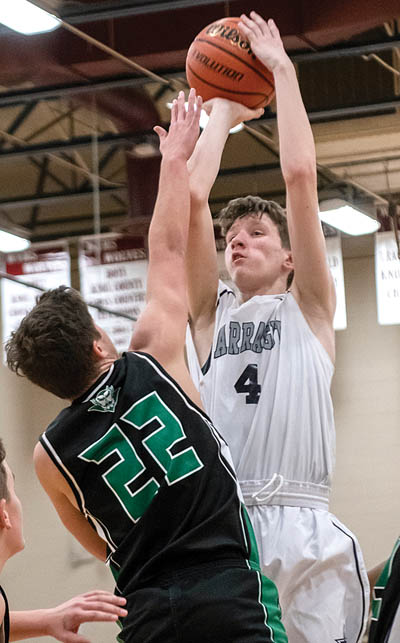 Alex Doerger (4), Farragut Middle School seventh-grade post, goes up over a Greeneville defender for a shot in the paint.

KNOXVILLE — Farragut Middle School boys basketball team had its final tune-up for the upcoming James A. Ivey Memorial Basketball Tournament.

FMS took third place in West Valley New Year's Tournament, notching a 31-26 victory versus Greeneville Saturday afternoon, Jan. 5.

"This was a good game for us. They were a good team, and we got two pretty good wins," FMS boys head coach Randy Swartzentruber said after the Admirals opened tournament play with a 34-25 win over Robertsville Thursday, Jan. 3. "Hopefully we can use this to get ready for this week."

The Admirals (12-6) lost to Knox County Middle School Basketball Conference rival Bearden 41-31 in the semifinals Friday, Jan. 4, setting the stage for Saturday's showdown with the Greene Devils (8-7).

Alex Doerger, FMS seventh- grade center, used his 6-foot-5 frame to dominate the final six minutes. He scored eight of Farragut's 10 fourth-quarter points, ending with 14.

Doerger scored 40 points in Farragut's three tourney games and was named to the All-Tournament team.

Karaaz Johnson scored nine for FMS Saturday.

The Admirals will be home today (Thursday, Jan. 10) for a postseason tournament game.

They'll be the fifth seed. Game time is 4:30 p.m. and Farragut's opponent was unknown at press time. It was determined at this week's seeding meeting by a tie-breaker drawing. The Admirals will entertain Northwest, Holston or South-Doyle, which finished in a three-way tie for 11th place.

Lady Hawks beat Bearden to take seventh at West Valley: Hardin Valley Middle School nine points from Lexi Hall and six from Kamiyah Love to outlast the Lady Bruins 24-15 in the seventh place at the West Valley Tournament.

The Lady Hawks (4-14) trailed Bearden 6-5 after the first quarter. They also got a break when a Bearden player scored a field goal in the Bruins' basket.

Hall made the all-tournament team for Hardin Valley, which played Karns Wednesday in the first round of the postseason tournament. Results were not available at press time.

West Valley girls win tourney, remain perfect this season: The Lady Wolves kept their perfect record intact by winning the tournament title. West Valley improved to 22-0 with a 40-29 victory over Robertsville. West Valley's Avery Treadwell was named Most Valuable Player.

The Lady Wolves hosted Northwest in a postseason game Wednesday. Results were not available at press time.

Lady Ads go 1-2 at West Valley: Farragut had mixed results in the West Valley Tournament.

The Lady Ads (12-6) lost to Robertsville (38-14), beat Bearden (31-19) and lost to New Center (39-6). Aubrey Stackhouse scored 15 points in three games and was named to the all-tournament team.

Hawks fall to Robertsville in seventh place games: HVMS dropped a 44-25 decision to the Rams Saturday.

The Hawks (1-16) got 11 points from Eli Johnson, who made the all-tournament team.

Hardin Valley plays at top-seeded and unbeaten Vine today at 4:30 p.m.

West Valley boys take second: The Wolves fell in the championship game of their own tournament to Bearden. The Bruins claimed a 48-41 win over West Valley (16-4).

The Bruins and Wolves will both host playoff games today. West Valley will play Gibbs, while Bearden plays Northwest, Holston or South-Doyle.