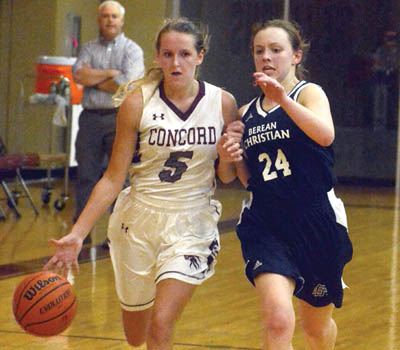 Ashley Penland, CCS Lady Lions junior guard, looks to beat Berean defensive pressure as she dribbles past midcourt.

Head coach Shane Mynatt labeled his Concord Christian School Lady Lions' 46-32 home basketball victory against Berean Christian School "our best game of the season."

Improving to 3-8 following this Friday night, Jan. 4, victory, CCS was led in scoring by Ashley Penland, junior guard, with a game-high 21 points.

Madi Mee, junior guard, added 11 points for the winners, followed by freshman Kylie Philllips scoring nine and senior post Elizabeth Dawson with four points. Freshman Sydney Petersen added a free throw.

The CCS boys hung close versus Berean for a while, trailing 35-31 at halftime before losing 78-66.

Bryce Baxter, junior power forward, led the Lions in scoring with 21. Eric Bachman, junior guard, added 10, followed by D. McGlone with eight and Josh Gilder seven. Harry Pennoyer finished with six points followed by Gavyn Gregg adding five. Walker Simpson had three points with Owen Prince, M. Alford and Eli Patterson each scoring two.