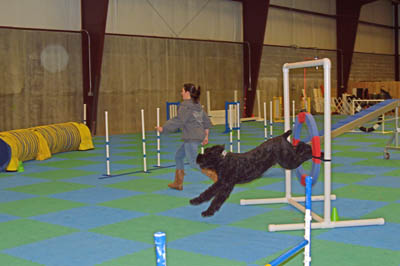 Kristen Kelly puts Talia, a black Russian Terrier, through the agility course at K9 Center of East Tennessee, 11225 Threadstone Lane, during a practice session. The center, which has been in operation for a year, provides various types of training and classes in addition to its daycare, self-serve bath, grooming, acupressure and acupuncture services.

For a little more than a year, K9 Center of East Tennessee has provided a one-stop shop for dog owners and is doing "great," said Trish Isbell, one of the center's partners.

The 18,000-square-foot center at 11225 Threadstone Lane, near Episcopal School of Knoxville, provides daycare, training, grooming, dog wash and even acupuncture services for dogs — and it's growing.

"We started slow with daycare, up to 10 dogs, and now we have up to 40," said Isbell, who owns the business with Susie Stout, Ace Russell and George Beck. "Forty dogs is our capacity."

Isbell said the business's increase has been from a lot of word-of-mouth referrals.

"We've got some good staff that's been with us pretty much through the year," she said. "We have a full-time groomer who's going to be here a couple times a week.

"It's picked up steam here," Isbell added. "We have a lot of classes and we have all kinds of agility equipment now, so we have a lot of agility training for beginners."

She said the center offers a free agility session one Saturday each month with an instructor present "if (the dog) has never done it before and you want to try it.

"It's just a good bonding experience between the owner and the dog," Isbell added.

Besides agility training, K9 Center offers classes in obedience, rally, puppy and nose work — a class for finding the scents of anise, birch and clove.

She explained the training keeps the dog's mind active.

If dogs are enrolled in trials, Isbell said, "We have a full line of agility equipment, and it's an indoor agility arena."

The self-serve dog wash also has picked up, Isbell said.

"We've had a couple of fundraisers with the dog wash for (Susan G. Komen East Tennessee) for cancer."

Another new feature is an outdoor pool. Dogs get swimming and dock diving lessons, while the pool also is used for post-op care.

The center's day care is open from 7 a.m. to 7 p.m., Monday through Thursday, and from 7 a.m. to 6 p.m., Friday. The office and dog wash are open from noon to 6 p.m., Monday through Friday; from 10 a.m. to 4 p.m., Saturday; and from 1 to 5 p.m., Sunday.

For more information, call 865-310-2800; e-mail info@k9centertn.com or visit online at k9centertn.com.