BHS grad turns animal devotion into pet-sitting business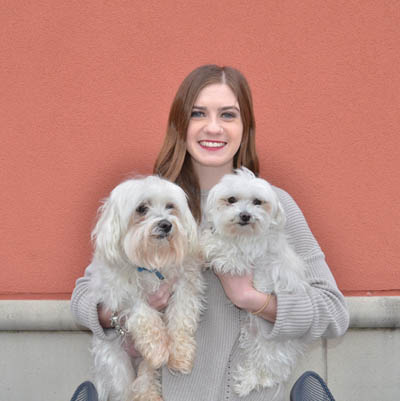 Abbey Varner, owner and operator of "Pawsitively Pampered Pet Sitting," holds her own two Maltese pups, Bettis and Bradshaw, who are never far from her thoughts, even as she works all over Knox County taking care of other people's pets.

Abbey Varner has always loved animals — especially her own — but she has turned that devotion outward to operate "Pawsitively Pampered Pet Sitting."

The Bearden High School graduate started in that field when she was just 8 years old, on the heels of finally finding a dog breed that didn't trigger her father's allergies. The family bought a Maltese they named Bettis, in honor of Pro Football Hall of Fame running back Jerome Bettis, a former Pittsburgh Steeler.

"We are from Pittsburgh and are Steelers fans," Varner said, noting they added Bradshaw (named after Steelers Hall of Fame quarterback Terry Bradshaw) three years later.

Even then, her care for pets extended to those owned by others.

"My parents were both allergic to cats so we couldn't have one, but they might find me petting one in the middle of the street," Varner said.

That natural bent led her to a self-realized dream job.

"Since I always loved animals I went around the neighborhood with a planner, and had names of all the residents and their dogs names," she said. "My mom made me some (business) cards to hand out, and it took off from there."

Fast forward more than 10 years, and now Varner has nearly 10 employees working for "Pawsitively Pampered."

Her own workload, which includes part-time employment at Sir Gooney's Golf and occasional

babysitting, necessitated adding extra workers, including her boyfriend, friends and family members who cover clientele living in locations from Farragut all the way to downtown Knoxville.

"Last summer I didn't have a week off," she noted.

Varner has been successful through word of mouth, repeat customers and advertising through Facebook and Nextdoor.com among other methods, and said she believes her dedication to the animals themselves has been the key draw among her clients.

"I sent pictures, videos and (do) Facetime" with the owners," she said. "I go there three to four times a day. Most people don't stay as long as I do, either. I try to play with them or give them a treat.

"If I just let them out to go to the bathroom, I am not any better than a kennel."

She has not limited herself to dogs and cats, however, as Varner also has cared for chicks, roosters, geckos, bearded lizards, turtles, fish and even sugar gliders.

"I (take care of) everything except for farm animals," she said.

Varner also is willing to provide house sitting, along with pet sitting, she said.

Even though she is studying at the University of Tennessee, with a plan to apply to the nursing program this fall, she has entertained the thought of switching her major to business, as she would like to open a dog hotel.

"That's what I would love to do, but I'm going to get a degree in case that doesn't work out."

Despite the long hours at school and at her numerous work commitments, Varner's heart still belongs to Bettis and Bradshaw, which is where much of her life began.

"I'm obsessed with them, they are my life," she said, adding her devotion is so strong her sister gave her a unique and hard-to-find Maltese bracelet charm one Christmas.

Her clients, however, are certainly glad the dogs are willing to share.

For more information, call 865-803-8029.