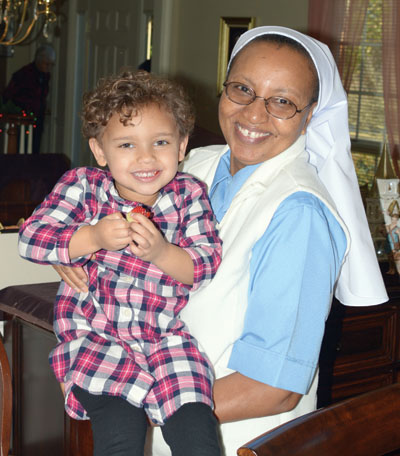 June Hay, 3, and Sister Elizabeth

St. John Neumann Catholic Church parish members gathered for fellowship Sunday, Jan. 6, at an Epiphany Open House in the Convent of St. Patrick, located across from SJN Church at 633 St. John Court.

Sister Dorothy, a nun at the convent, said the open house is held every year. She explained SJNCC built the house and provides it as a convent for the nuns who are part of the Evangelizing Sisters of Mary.

The open house gives the sisters who host the event the chance to show appreciation and allows parishioners to see the convent/house, said Sister Restituta, also a nun at the convent.

The annual event is held Jan. 6, the Day of Epiphany, the celebration of when "Jesus the King manifested to all nations," Sister Restituta explained. "That's what makes us all brothers and sisters."

For more photos from this event, please see Westside Faces in our print edition.