FHS girls hand Maryville first loss of season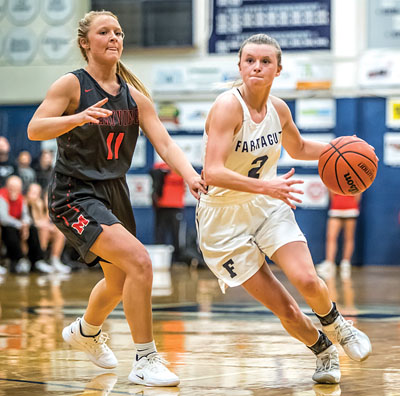 Madison Hodge, Farragut junior guard, begins to drive past a Maryville defender during this District 4-AAA showdown in FHS's Lynn E. Sexton Gymnasium Friday night, Jan. 11. The Lady Admirals avenged a 54-52 loss at MHS earlier this season, winning 44-39.

Farragut High School's girls basketball team has had its struggles in big games this season. But the Lady Admirals reversed that trend, at least for a while late last week, as they notched a crucial District 4-AAA comeback win Friday night, Jan. 11.

"We were ready for a fight," senior guard Morgan Carbaugh said after her Lady Admirals notched a 44-39 District 4-AAA victory over previously unbeaten Maryville before a spirited crowd in FHS's Lynn E. Sexton Gymnasium. "This game has been circled on the calendar for a while, since we lost to them over there.

"Maryville is a great team, and we knew that we had to come in and fight," added Carbaugh, who scored nine points. "And we did and we got a big win."

This game broke a pair of streaks. For starters, Maryville entered the contest with 19 consecutive victories. It also was Farragut's first win versus the Lady Rebels (19-1 overall, 8-1 in the district) since the 2014-15 district tournament semifinals.

The game also was big for the Lady Ads (15-5, 6-3), who were coming off a tough road loss at William Blount Tuesday night, Jan. 8.

"What happened Tuesday happened," Farragut head coach Jason Mayfield said. "We just didn't have the focus that you have to have to win big games.

"But the fight was there for us tonight. That's the way these games are. You have to fight through every possession, every loose ball, every rebound and you have to be strong and finish the game, too."

The Lady Admirals did all those things against Maryville Friday night, avenging a 54-52 loss to the Lady Rebels at MHS last month.

Farragut senior Brooke Christian said the Lady Ads felt they could win at FHS with their home crowd behind them.

"We were pretty confident just because we were so close to them the first time and we know our potential," said Christian, a wing/post who scored 12 points. "This one feels really good.

"We've been working really hard in practice and we came out the aggressive ones, and I felt like we controlled the tempo the whole time. The atmosphere was great."

Maryville head coach Scott West saw things a bit differently.

"We didn't give our best effort," he said.

But West had to like what he saw early, as Courtney Carruthers knocked down four 3-pointers in the first half and Denae Fritz scored six of her 10 points before halftime for the Lady Rebels, who opened a 10-5 lead by the end of the first quarter.

Farragut's defense all but stifled Carruthers after halftime, however, as she finished the contest with 16 points for Maryville, which went 4-for-26 from beyond the 3-point arc.

"We haven't had a game this year where we've tried more than 20 3's, and tonight we made four out of 26. That's what we were settling for," West said.

The Lady Rebels went ice cold in the third quarter and scored just six points in the period.

That enabled Farragut to take a 31-27 lead heading into the game's final eight minutes.

Maryville would bounce back to pull even at 31-31 thanks to baskets by Fritz and Carruthers.

But the Lady Rebels would never have the lead over the final eight minutes, and Farragut would seal the victory from the free throw line.

Claire Wyatt, junior wing who led the Lady Admirals in scoring with 14 points, combined with Carbaugh to make five free throws in the closing moments.