K-12 chess tournament set for HVA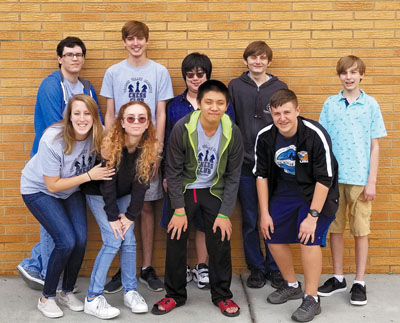 Hardin Valley Academy Chess Team members are hosting inaugural HVA 2019 Spring Team Scholastic Chess Tournament — open to all kindergarten through 12th-graders in public and private schools along with home-schooled students — Saturday, Feb. 2, at HVA. Front row, from left, are club sponsor Amanda Danson and members Lucy Hall, Eric Zhao and Jacob Fanikos. Back row, from left, are members Ryan Hall, Ben Koob, Matthew McCoig, Charles Thorton and Peter Moncur.

Knox County-area students who love chess have a chance to play and just have fun.

Hardin Valley Academy Chess Club has organized inaugural HVA 2019 Spring Team Scholastic Chess Tournament, which is open to all students from kindergarten through 12th grade — public, private and home schooled — Saturday, Feb. 2 at HVA, 11345 Hardin Valley Road.

Check-in time will be from 8 to 8:45 a.m. with a coach's meeting at 8:45 a.m.

"This is the first time ever to have hosted a chess tournament at Hardin Valley Academy," said Dr. Xiaopeng Zhao, who is helping club members organize the event. He is the father of the HVA Chess Club founder Eric Zhao, a 10th-grader.

"We don't want it to be a serious competition," Xiaopeng Zhao said. "We want them to have fun — like a chess party."

Entry fee is $40 per team — but free for girls.

Xiaopeng Zhao explained the club wants to encourage girls to be more involved playing chess.

The event also helps the club members learn how to organize events, Xiaopeng Zhao said.

The tournament is divided into groups, or sections, of teams according to age. There are four sections — kindergarten through third grade, fourth through sixth grade, seventh through ninth grade and 10th through 12th grade.

Xiaopeng Zhao said the tournament is unique. Unlike other team-based tournaments, participants on a team do not have to be a from the same school. They may be mixed with members from public and private schools and those who are homeschooled.

"It's the first mixed-school event," he added. "It's very unique. Knox County has had multiple tournaments, but players on a team had to be from the same school."

As the club headed into its second year, Eric Zhao said members just decided they wanted to host a team tournament.

To participate in the tournament at HVA, contact Amanda Danson, the club's sponsor and HVA teacher, or Xiaopeng Zhao at xiaopengzhao@gmail.com before Wednesday, Jan. 30.

In conjunction with HVA's tournament, University of Tennessee Chess Club is hosting a free dinner and seminar, "Making the Right Moves," featuring Dr. Carolina Blanco, a woman's international chess master, from 5 to 9 p.m., Friday, March 29, at Tickle College of Engineering, 416 Dougherty Engineering Building on the UT-Knoxville campus.

Open to kindergarten through 12th-grade students and their parents, Blanco will discuss how to "make the right moves in chess and in life."

Additionally, girls can take what they learn from the seminar and compete in Tennessee All-Girls Scholastic Chess Championship tournament Saturday, March 30, in Perkins Hall, 1506 Middle Drive on the UTK campus. Fee is $15 through March 22 for kindergarten through sixth-graders, $25 thereafter, and $20 through March 22 for seventh- through 12th-graders, $30 thereafter.

East Tennessee Chess Club, UTK Chess Club and Tennessee Chess Association are sponsoring the state event, which also provides STEM activities for participants at Perkins Hall, said Xiaopeng Zhao, a UTK engineering professor who is organizing the youth STEM activities.

For more information about the state tournament, e-mail Forest Chen at knoxvillechess@gmail.com or contact Xiaopeng Zhao at xzhao9@utk.edu.