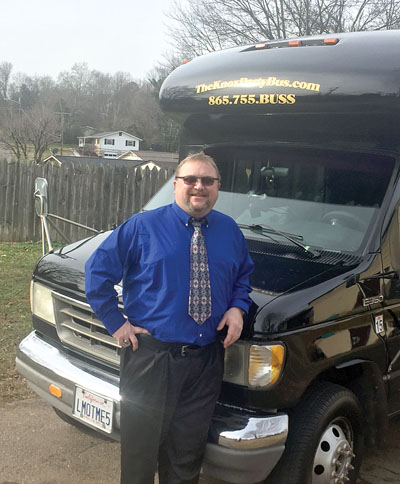 Former school bus driver Greg Penner has found a real niche for himself driving The Knox Party Bus — co-owned by his wife, Melinda Penner — that combines his prior work experience with a longtime love of music.

Greg Penner knows two things really well: music and transportation.

Now the Farragut High School graduate (Class of 1984) can combine the two with The Knox Party Bus, a new business he and his wife, Melinda Penner, recently started.

As the name implies, The Knox Party Bus provides transportation for up to 18 revelers who want to safely enjoy themselves, be it a birthday party, wedding, bridal shower or just a night out.

Additionally, the bus is decked out with multi-colored interior lighting, a 46-inch big screen television, a wide variety of CDs and DVDs from which to choose and even dance poles for those who want to "get down."

While the venture may seem geared toward more adult-types of fun, The Knox Party Bus is "really about families and people being together and making memories," stated the West Knox County couple on the business's Facebook Page.

Greg Penner, who is the primary driver, has very extensive skills when it comes to driving commercially: he drove a bus for 23 years as an independent contractor for Knox County Schools and the YMCA, among his clientele.

A self-taught musician and singer, Greg offers his own services for weddings or receptions.

"There are already busses like this in LA., New York, Las Vegas and Nashville, so we thought it was a great idea to offer one (locally)," added Melinda, who has her own transportation history by working for Knoxville Area Transit for many years, and is primarily behind the scenes with marketing, booking and web site design.

They purchased the converted Ford 350 "sight unseen" from a California seller last year, and quickly developed a tagline: "Life's Too Short Not to Party."

They had their first booking just before Thanksgiving. Since that time, they have provided transportation for birthday parties, Christmas light tours and New Year's Eve parties.

The bus has a variety of price points and packages offered, from a three-hour "Parking Lot Party" for $395 up to Platinum packages that top out at $1,400 for eight hours.

Depending on the number who participate, prices can be as low as $25 per person.

For more information, check out The Knox Party Bus on Facebook, visit www.theknoxpartybus.com or call 865-755-BUSS (2877).