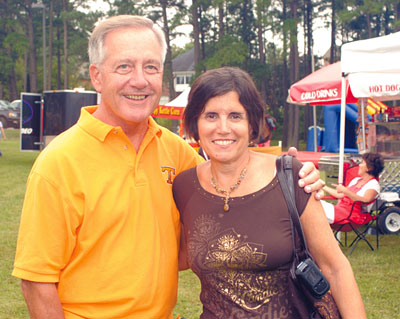 The late Mayor Ralph McGill and wife, Marianne.

The daughter of Town of Farragut's late Mayor Ralph McGill is doing her best to turn what could be a sad day into an uplifting one: commemorating what would have been her father's 76th birthday.

Kimberly McGill Pratt of Kingsport has established a Facebook event, "Random Acts for Ralph," asking others to initiate or perform "some random act of kindness" in honor of her father's "first birthday in Heaven" Monday, Feb. 4.

"I tried to think of a way to honor him on this special day as we learn what life is like without him," she wrote. "My dad was always fond of surprising others. In fact, he started a tradition in our family when I was young at Christmas time. It started with the first VCR we ever owned. He had bought it for my mom (Marianne McGill) as a special surprise at Christmas. He told my brother (Norman) and I about it and where he would be hiding it.

"He said he would be giving it to her when everything was opened at Christmas," Pratt added. "He said, 'You know how mom always says, 'Well, it's all over' when we are done opening gifts? Well, that will be our cue to go get the VCR.'

"From that Christmas on we always looked forward to the "Well, it's all over" present. Every year it was someone different or multiple people. He loved the element of surprise."

Pratt said one year in particular had been difficult for her, so her "Well, it's all over" present was a new camera.

"He got me the camera that I wanted, because (of everything that had happened), and told me to start a photography business, and I did," she said. "I never would have or could have done it without him."

Pratt said Dr. McGill also was well-known for surprising others outside the family, too.

"He did it with us, and he was doing it all the time as mayor," she said.

"So, I figured what better way to honor my dad on his birthday than by surprising someone with a random act of kindness," she shared on the Facebook post. "He would be so thrilled.

"I know he will be smiling down from Heaven. So, even though his life is over, his love for surprising others will live on. Dad, it's really never all over," she added.

"It does not necessarily have to happen on (Feb. 4), but just some time around then."

She posted many possibilities on the Facebook page, many of which apply to all ages, from complimenting someone to visiting a nursing home, writing letters to family or members of the military, baking a treat or helping clean up a mess.

Pratt said she would "love" to find out what people may have chosen to do in her father's honor and memory, and also asked if someone does receive a "Random Act for Ralph" to please "pay it forward" by performing a random act of kindness in Dr. McGill's honor.

Initially, Pratt said she started small, letting family members and Town of Farragut officials and employees know of her intentions. "I wanted to surprise my mom with it, too, but I accidentally made the Facebook post public before I could tell her," she said.

Pratt said her mother and those affiliate with the Town were excited about the commemoration, so she branched out to let others know.

"The bigger it gets the happier it makes me," she said, noting her oldest daughter also is enthusiastic to do something for her grandfather.