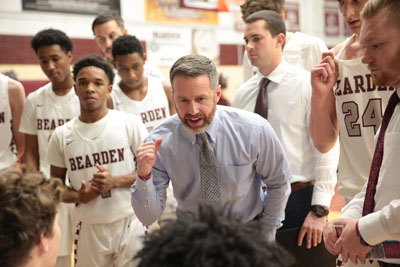 Jeremy Parrott, Bearden head coach, with his Bulldogs during a timeout

KNOXVILLE — Jeremy Parrott had his concerns entering his team's game against Knoxville Catholic late last week.

"I was worried about our energy level coming in because we've played some tough games, we've had a lot of traveling and we've been a little beat up," Parrott, Bearden High School's boys basketball head coach, said after the Bulldogs routed KCHS 78-52 in a District 4-AAA showdown Thursday, Jan. 10, before a packed house at BHS. "I was really pleased with our energy level.

"We came out and got off to a fast start."

As it turned out, Parrott didn't have much to worry about, as his Bulldogs darted out to a 20-12 lead by the end of the first quarter of the contest, which featured two teams tied for second in the District 4-AAA standings.

The Irish (who are now 15-4 overall and 7-2 in the district following a win over William Blount Friday night, Jan. 11) did make a run in the second quarter and pulled to within 25-24 when Ryan MacDonald made a bucket with 2 minutes, 44 seconds remaining in the second stanza.

But Bearden (16-5 overall and 8-1 in league play after knocking off Heritage in Maryville Friday) would quickly regain control with an 11-0 run. The Bulldogs made nine foul shots during the surge, which enabled them to take a 36-24 lead at the break.

From there, it was all downhill for Catholic, which has a talented squad. The team, however, is one of the youngest squads playing in the Volunteer State.

After halftime, Bearden was still hot and the Bulldogs would prove too much for the Irish to handle. Catholic head coach Mike Hutchens could only tip his hat to BHS.

"We get it down to one, 25-24, and then they go on an 11-0 run right before halftime and nine of those 11 points were free throws," Hutchens said. "Then, they come back out and shoot about 80 percent in the third quarter. It was just a blitzkrieg.

"They hit everything they threw up there and they had guys making shots who usually don't hit shots," he added. "And there's really nothing you can do about that."

Hutchens was wrong — but not by much. The Bulldogs were 8-for-12 from the floor, which is 75 percent.

Ques Glover led Bearden with 25 points and Trent Stephney finished with 17. Shamarcus Brown added 12. Kordell Kah had 11 for the Bulldogs while Roman Robinson scored six and Drew Pember added five. Pember has played 11 minutes since recently returning from a leg injury.

Glover said he felt like the Bulldogs had something to prove when they hit the hardwood against the Irish.

"This was a huge win for us," he said. "We've had some tough games in some pretty good national tournaments.

"We wanted to come back home in front of our fans and win this game," he added. "We wanted to prove a point to the other teams in the district. It was great to come in here and get a big win against a good team."

Hutchens noted that experience was a key for Bearden.

"That's a good team out there," he said. "They went to the state tournament last year and got all of their starters back. We're young and we'll be a better team at the end than we are right now."

Akeem Odisupe led the Irish with 18 points. Freshman B.J. Edwards added 13.