530 employees 'no doubt' will boost Town economy; 300 new hires possible by 2020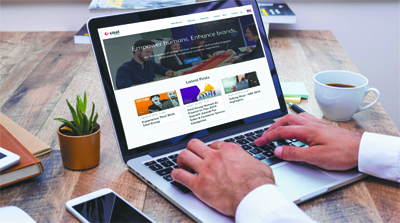 Combining the efforts of Kodak Properties and Town of Farragut officials to broker the deal, Sitel Group's move into Town limits will bring 530 employees who will be transferring — occupying the former Outlet Mall along Outlet Drive — sometime this spring.

About those employees boosting the Town's economy by spending money while in Farragut — with a mid-April target date for Sitel to begin operation according to one company official — "It will be an impact, there's no doubt," Farragut Mayor Ron Williams said.

"They're going to shop and eat in those areas as well, so it absolutely will be a boost to the economy," said Kelin Mock, Site director with Sitel Group, about the employees' impact on the Town.

With Sitel being a worldwide company that "supports and handles the calls for a variety of different clients" as a "call center" according to Mock, he added, "I anticipate we'll grow to 100-plus new jobs in 2019.

"And then we'll have the ability to scale to about 300 new jobs probably through 2020."

Jim Nixon, an employee of Turley & Company and commercial real estate broker with First Commercial Real Estate, serves as a liaison between tenants, landowners and Town of Farragut — where he's a member of Shop Farragut/Farragut Business Alliance.

Sitel "is ideal for that building, and (the leasing) is ideal for the Town," said Nixon, who added he "helped coordinate between the tenant and the building owners" in the leasing agreement.

"This is a long-term lease deal, or Jim and them wouldn't be renovating like what they're doing," Williams said.

"What we're all looking at, for that particular location — as you are for any empty building — is something sustainable, something that's going to be there for a while," he added. "Sitel being a call center that is worldwide, they were an extremely good fit."

Sitel is closing two area locations, one in Oak Ridge and the other along North Peters Road and Parkside Drive in Knoxville, to consolidating those operations into its Outlet Mall location.

"It makes sense for us to consolidate into the one location, and so we did a lot of market research," Mock said. "The area there on Outlet Drive and that building, the reason we selected it is because it's going to be developed quickly, and that's where the population growth is as well. When we think about recruiting top talent and being able to grow our business, it's the right place and the right building.

"The city of Farragut has some big plans for Outlet Drive, in terms of developing that side of the (Interstate)," he added. "… It puts us right in the middle of new and exciting things."

With the former Outlet Mall location, which is owned by Kodak, comprised of $162,000 square feet, "We are initially building out 45,000 square feet, but we also have right-of-first-refusal on an additional 25,000 square feet, which would essentially be half of that building," Mock said. "We expect to be occupying that space by the middle of April."

"What we're hoping is we can get some alternative form of transportation out this way to bring people from other ends of (Knox County)," Williams said. "These are good-paying jobs."

"Over the first couple of months we're going to provide some gas cards to everyone, to help them get comfortable with the new commute," Mock said.

Knox Area Transit is being targeted to reestablish a bus route to Farragut. "I know Ron Williams is working on creating a route that would basically go through Outlet Drive, and back to Parkside (Drive) there in Turkey Creek," Mock said.

Working with Kodak and Town officials since last fall, "We signed the initial lease in early November," Mock said. "Permits were released from the city of Farragut as of last Friday (Nov. 18)."

Renovation work began earlier this week.

Headquartered in Miami, Sitel Group is a worldwide company with more than 150 call centers (more than 75,000 employees) located in 36 nations.