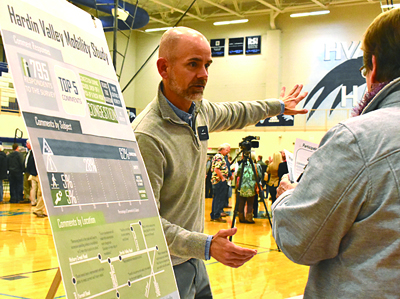 Knoxville-Knox County Planning employee Craig Leubke was the first point of contact for the more than 350 Hardin Valley residents attending last week's Mobility Study workshop in Hardin Valley Academy.

Hardin Valley residents provided input on the area's growth and resulting traffic woes during a community meeting at Hardin Valley Academy last week.

More than 350 area residents — described by organizers as "the biggest turnout they had ever seen" — shared their opinions during the informal workshop session Tuesday, Jan. 15, on the Knoxville-Knox County Planning's Hardin Valley Mobility Study, which will ultimately be formulated into a Mobility Plan and presented to the Knox County Commission for evaluation and possible funding.

The main issue plaguing the area is "rush hour" traffic snarls in and around the elementary, middle and high school, as well as around Pellissippi State Community College.

Other residential concerns shared by KKCP includes safety issues, poor lighting and visibility, the lack of a road shoulder, roads being too narrow and a lack of bicycle or pedestrian options.

While Hardin Valley Road east of the Parkway features multiple lanes, medians and turning lanes, the area west offers only a two-lane road and a turning lane.

"I moved here 25 years ago and don't think they anticipated the growth," said Sam Krakoviak, who was among the residents present.

"You see congestion all over the county, especially in the school zones," he added. "This would not be a popular suggestion, but I think if they rezoned students east of Pellissippi to Karns, it would help a lot.

"It would be a quick fix, and a monumental help, but it would not be a popular (choice)."

"It has been very informative," said Martin Seamon, attending with his wife, Mary Lou Seamon. "They need to limit construction and housing, and the roads really need to be improved."

"I am impressed this many people have come out," Mary Lou said.

"They (officials and planners) need to be proactive and not reactive."

Knox County Commissioners Brad Anders, whose 6th District includes Hardin Valley, and John Schoonmaker, whose 5th District includes Farragut, were among the politicians on hand. Others included Town of Farragut Mayor Ron Williams, Vice Mayor Louise Povlin and newly-elected state Rep. Justin Lafferty, whose District 89 includes Hardin Valley.

"Part of Farragut is in the Hardin Valley area, so it does impact us," Povlin said.

Williams said mobility on Campbell Station Road, which stretches from Kingston Pike to Hardin Valley Road, is of interest to the Town for other reasons.

"It is one of the things on our radar, which includes the Campbell Station intersection with Snider Road, and the Campbell Station Road I-40 interchange," he said.

Visitors were given the opportunity to interact with Planning department employees and provide input on placards located throughout the school's gymnasium, while staff members also shared information gathered so far in the process.

KCI Technologies is working with KKCP to help analyze and compile the findings, and Kayla Ferguson of KCI also answered on-site questions.

Hardin Valley is considered "the fastest growing area of the county," according to the KKCP, with 1,200 building permits being issued from July 2014 to July 2018, 90 percent of which were for residential housing.

KKCP plans another workshop in March.

File online comments at http://wikimapping.com/wikimap/hardinvalleymobilitystudy.htm., through Friday, Jan. 25.