Breathing new life into historical site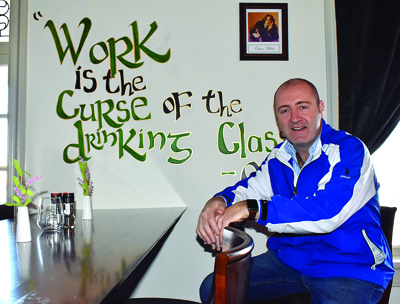 Jon Ferrie, co-owner of Finn's Restaurant & Tavern at Baker Peters House, fronts one of many United Kingdom quotes or sayings decorating the walls of the newly-opened establishment near the intersection of Kingston Pike and South Peters Road. This one is from famed author Oscar Wilde: "Work is the curse of the drinking class."

Jon Ferrie has brought new life to one of West Knox County's favorite historical restaurants.

The Ireland native opened Finn's Restaurant & Tavern at Baker Peters House in November, offering a unique dining option in a well-known location near the intersection of Kingston Pike and South Peters Road.

Ferrie, who previously owned and operated The Irish Times with his wife, Rachel, has a different business partner in this venture, Dan Hale, and the two have overseen upgrades to the establishment "to be like a typical Irish restaurant," he said.

"We wanted to give it an Old World, yet traditional feel that you see in Ireland," Ferrie added. "People might think they know what a pub looks like, but not a typical restaurant.

"This building works so well with that idea because it is old, just as many restaurants in Ireland are in buildings that are hundreds of years old."

Ferrie said he had his eye on the Baker Peters home since right after he opened The Irish Times in Turkey Creek in 2007.

But he kept his eye on the property, even as Irish Times closed in 2015 and he went to work for Avalon Golf and Country Club.

"After two years, I was getting the itch again to open a restaurant," Ferrie said.

"I was driving around ... and I saw this place was empty," he added.

When he met Dr. Larry Tragressor, the home's owner, Ferrie said he realized they both "had a passion to preserve history" while he sought a location for his newest venture. Tragressor keeps his dental office on the first floor of the building.

It also houses Finn's kitchen and its meeting room, the latter of which is offered for businesses or other gatherings, Ferrie said.

Finn's (named after a mythical Irish hunter-warrior), along with a pub area, encompasses the entire second floor of the building.

Ferrie has focused on the details of the decor, just as he has with the traditional Irish menu that also includes more American fare. Brunch is offered on Saturdays and Sundays.

Business has been "great" so far, Ferrie said, adding the restaurant "is almost completely booked already for Valentine's Day.

"Baker Peters already had a lovely following as a special occasion place," he added. "We want people to feel free to come in and enjoy it."

Hours are from 4 p.m. to midnight, Monday through Thursday; from 4 p.m. to 1 a.m., Friday; from 11 a.m. to 1 a.m., Saturday; and from 11 a.m. to 10 p.m., Sunday.

For more information: www.finnstavern.com or 865-357-0894.