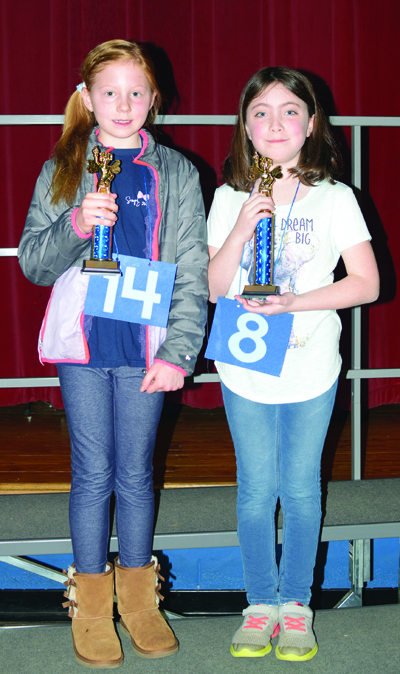 Hardin Valley Elementary School third-grader Katelyn Coffman, left, earned the spelling bee runner-up trophy. Third-grader Miranda Beverly was champ.

Gasps resounded when Hardin Valley Elementary School third-grader Miranda Beverly correctly spelled "formative," making her the

winner of HVES' school-wide spelling bee in its gymnasium Friday morning, Jan. 18.

Miranda and fellow third-grader Katelyn Coffman, two of 27 participants, had gone through 11 rounds before Katelyn was given the word "visionary" but misspelled it. Miranda then spelled "disembark" and "formative" correctly.

Miranda, daughter of Heather and Bruce Beverly, said she felt good about the win, although she didn't expect it.

"She reads constantly," Miranda's mother said with a wide smile on her face.

Participating in a spelling bee is not new to Katelyn, the daughter of Sara and Eldon Coffman, as her two older brothers are former school spelling bee champs.

Shelley Weiss, HVES fifth-grade teacher who was in charge of the competition, said third- through fifth-graders took part in the bee, and 27 students were the top spellers in their homerooms. The students went 10 rounds before the competition was narrowed to Miranda and Katelyn.

Miranda will go on to compete in the countywide spelling bee Thursday, Feb. 9, at Silas Willard Elementary School. If she wins that event, she will compete in the News-Sentinel Southern Appalachian Spelling Bee in March at University of Tennessee, Knoxville.

David Aldrich, WVLT-TV Channel 8 news chief meterologist, announced the words. HVES teachers' assistants Heather Hancock, Millie Jungwirth and Elaine Walker judged the competition.

Other participants were:

• Fifth grade: Lily Gamble, Samuel Ogle, Gracelyn Fritts, Zoe Cristy, Ruby Hill, Noah Garcia, Garrett Lee, Taylor Owen and Phystian Calhoun.

• Fourth grade: Tyler Wilson, Cruize Furman, Brock Raddon, Kylee Moss, Olivia Culp, Ryder Mansell, Marley Pitstick and Wyatt Sisco.

• Third grade: Braxton Colehour, Sarah Galloway, Luke Zimmerman, Madison Everitt, Roman Hogrefe, ZeeZee Jones and Andrew Bush.