FBC missionaries willing to take risks to share the Gospel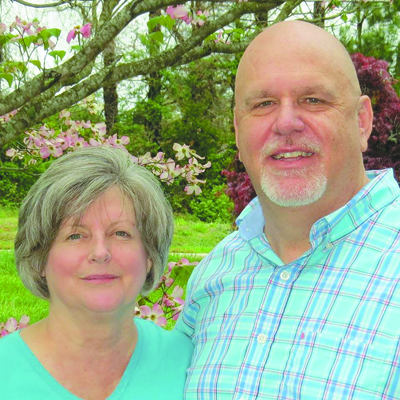 Cary and Frank Forsythe

A missionary couple commissioned by First Baptist Concord is safe following a deadly Islamist attack Wednesday, Jan. 16, in Nairobi, Kenya.

While more than 20 were killed during a shooting and bombing rampage that targeted an upscale hotel compound, Frank and Cary Forsythe were about two miles away.

"We were sitting in our office around 3 p.m. local time when I heard what sounded like explosions," Frank said two days later via e-mail. "The sound was a little faint. It didn't seem so powerful or ominous.

However, "our coworker started receiving messages a few minutes (later) advising her of a possible terror attack," he added. "We stayed in the office and monitored the news. … We left at our normal time, 5 p.m. and walked home without incident.

"We never felt fear for ourselves, but were concerned for the safety of those involved."

The long-time missionary couple has been "well aware" of the potential for danger in Kenya, Frank said. It is their second trip to the country — the first was only one month after the Nairobi Westgate Mall Attack in 2013, which killed more than 70 and left more than 200 injured.

The Islamic terrorist group Al-Shabaab claimed responsibility for both Westgate Mall and last week's attacks, but it is only one of more than an estimated 150 terrorist organizations identified throughout the world.

"We are aware of other attacks that have occurred (in Nairobi) and know attacks are possible in the U.S.A. also," said Frank, who has first-hand knowledge of the dangers posed on "home soil."

A retired metro Washington, D.C., police officer who was on duty during 9/11, he also worked on other terrorist attacks, along with helping investigate the D.C. Sniper during his 25-year career.

"The reality is the evil we are dealing with here, and even around the world. It is why it is so important for missionaries to go and share the Gospel."

Cary — employed as a social worker making home visits — and Frank were called to full-time missions work after they retired. They are originally from Henderson, North Carolina, and lived in Maryland and Erwin (Unicoi County) before moving to the Lenoir City/Knoxville area and attending First Baptist Concord. The couple currently serves with the African Inland Mission organization as short-term coordinators for the Eastern Region, which includes Kenya and Tanzania.

"We first came to Kenya when we first felt God calling us into full time missions," Frank said. "As Christians we have always been active in our local church and community. But we felt God calling us into full-time ministry. We served for two summers in Nicaragua hosting short-term teams for an organization called Crosspoint. God seemed to close that door, and directed us back to Africa. We applied to Africa Inland Mission and were accepted and advised of several open positions. We prayed about it and accepted the position here.

"We have a wonderful team here, with about 12 expats and Kenyan nationals," he added.

In the couple's current roles, "we are advised by our office when security issues arise … areas to avoid or necessary precautions," Frank said. "If an emergency evaluation would become necessary, we have guidelines set up to accomplish that."

He also said with the couple's own professional backgrounds, they are "used to taking common sense precautions."

Just two days after the latest Nairobi attack, Frank said, "I feel things are back to normal ... our thoughts are prayers are with them and this city and country."

"There is evil in this fallen world and all Christians are called to go, or send people to share the gospel with the lost. Sometimes that may mean going to a dangerous place. But there is no better place to be than in the center of God's will.