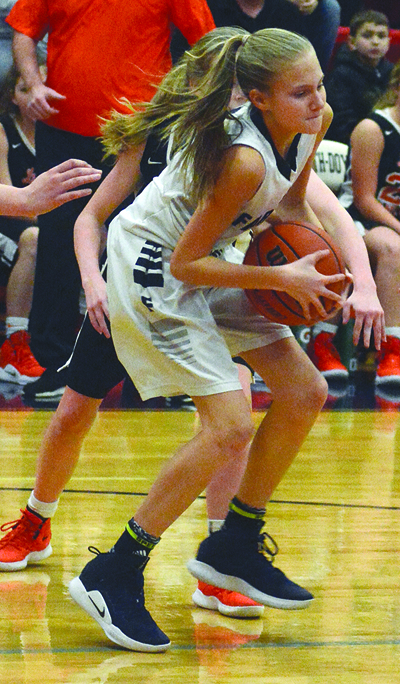 Hannah Enderson, Farragut Middle School Lady Admirals guard (white uniform), tries to protect the basketball from a Powell defender during this James A. Ivey Jr. Memorial Middle School Basketball Tournament third-place game at South-Doyle Middle School Thursday night, Jan. 17. FMS won 46-28.

KNOXVILLE — Farragut Middle School has one of Knox County's youngest girls basketball teams.

The Lady Admirals have had their share of struggles, but that didn't stop them from making a little history at the recent James A. Ivey Jr. Memorial Middle School Basketball Tournament.

Farragut entered the season as the two-time defending tournament champion. The Lady Ads didn't cut down the nets, but they were around on the final day of the tournament and notched a 46-28 victory over Powell Thursday, Jan. 17, at South-Doyle Middle School to claim third place in the tournament.

That victory over the Lady Panthers landed FMS in a state sectional tournament at Hardin Valley Middle School, which begins Saturday, Jan. 26. Farragut will join tournament champion West Valley (26-0) and runner-up Karns in the sectional.

"These three teams are going to get a chance to go to state, and we'll all get a chance to make history because this is the first time that Knoxville teams have gotten the chance to go to sectionals," Farragut head coach Susan Davidson said. "It should be really interesting."

The Lady Admirals (15-7) had to win late last week to move on, and seventh-grader Annie Priest did her part early to make sure her team's season would continue. Annie ended with nine points, 12 rebounds and nine steals.

"Annie Priest was huge for us," Davidson said. "She had nine steals and was our leading rebounder. This was a total team effort for us.

"We came back after a bad loss (in the Tuesday, Jan. 15, semifinal) to West Valley and we really took care of business. I'm proud of these girls because we're young and we've had some tough games this year and we only had two eighth-graders back," she added.

Aubrey Stackhouse, who joined Annie on the All-Tournament Team, scored 10 points. She also had six steals.

Carly Vining scored nine points and pulled down seven rebounds. Hannah Enderson scored six points on a pair of 3-point shots.

Lady Wolves champs

West Valley came out with a vengeance after halftime and notched a 42-27 victory over the Lady Beavers.

Tournament MVP Avery Treadwell finished with 15 points. Brinley Murphy added 10 points, Annalise Bishop finished with six and Sharon Wilson added five.

Murphy, Bishop and Wilson joined Treadwell on the All-Tournament Team.

Hardin Valley wins

sportsmanship award

Hardin Valley Middle School won the the league's sportsmanship award in its first season in the Knox County Middle School Basketball Conference.