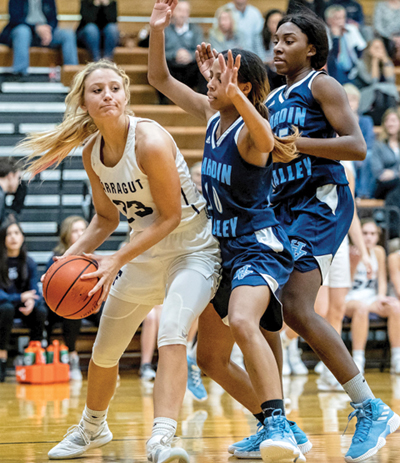 Brooke Christian of FHS looks to pass as Lady Hawks Tori Adams, left, and Malaka Grice defend.

A Monday night Farragut versus Hardin Valley Academy showdown is rare, but this basketball chapter of the District 4-AAA rivalry was no less spirited Jan. 28 in FHS's Lynn E. Sexton Gymnasium. Festivities included some family time — even among the coaches. While Jason Mayfield's Lady Admirals cruised to an easy victory against Jennifer Galloway's Lady Hawks, the boys' game went down to the wire. (See Sports) Farragut's boys held off a late HVA rally to win 70-66.

For more photos from this event, see Westside Faces in our print or e-edition.