Twice surviving cancer, HVA senior Martin helps oncology patients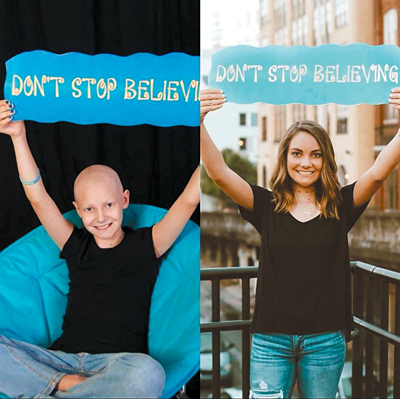 HVA senior Anna Martin shared a picture from when she was undergoing cancer treatment, at left, which will run side-by-side with her senior picture in this year's school annual.

A two-time cancer survivor is making an impact on children in the very location she was first treated almost eight years ago.

Hardin Valley Academy senior Anna Martin volunteers in many areas of East Tennessee Children's hospital, including in the pediatric oncology unit at least twice a week, and has racked up more than 300 volunteer hours since her freshman year. Currently, she volunteers there on Wednesdays and Fridays, when she helps get oncology patients "up and moving" through the "Kids in Motion Program," she said.

Martin also spends time with other types of patients as well, bringing the movie cart around or playing games with them.

Diagnosed in 2011 with leukemia, Martin received her initial treatments at ETCH before undergoing a life-saving bone marrow transplant at Vanderbilt Hospital.

"Everyone at Children's Hospital made a huge impact on me and was so helpful during my journey," she said. "They were my second family. I feel so connected to the hospital and want to be able to give back and make the same kind of impact on other patients and their families.

"(Volunteering) has just become a passion of mine and something that is very important to me."

Making others' needs a priority was something Martin developed early, and it was evident even as she battled her own illness.

"There was a girl who had had cancer," Martin recalled. "She needed to go for a checkup,

but the family didn't have the money for gas. They didn't know her cancer had returned until it was too late, and she passed away."

The predicament touched her so much that Martin began a gift card drive in 2012, asking for donations in lieu of gifts for the young victim's Feb. 26 birthday.

"I just wanted to help make sure other families would be able to have gas money and food," she said.

"A lot of time those are an afterthought when their main concern is their child's illness, but I don't want them to have to worry about how to feed their other children, or provide for them just because their child is in the hospital."

So far, she estimates the fund drives have raised more than $15,000 in donations over the years.

Her far-reaching selflessness also includes other volunteer roles at the hospital, along with working with the Special Olympics and as a peer tutor as a freshman and sophomore for students who have disabilities. As a result, Martin was honored by Optimist Club of Knoxville for her extensive community service as one of 17 county-wide recipients of the Robert H. Leonard Service to Humanity Award.

Martin and her parents, Mike and Kristen Martin, were told after her bone marrow transplant that the radiation treatment she received made her more susceptible to different types of cancer in the future. Unfortunately, that was borne out when Martin received a secondary cancer diagnosis of thyroid cancer in 2017, although as of Jan. 16 this year, she was pronounced cancer-free.

She said skin cancer might also be a possibility in the future, but "if that happens, it will be treatable," she said. "Nothing can ever be as bad as the leukemia was."

Martin wants to go even further to help children battling cancer by becoming a pediatric oncology nurse.