Town family up to 21 degrees in blackbelts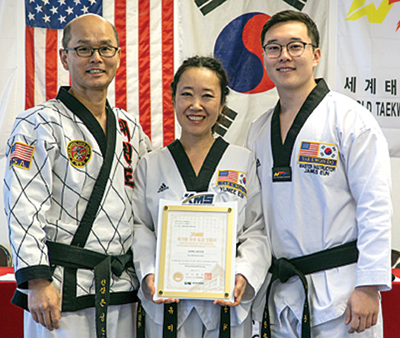 Grand Master Seoug J. Eun, left, with wife, Yumee Eun, a third-degree blackbelt and instructor who displays her husband's Kukkiwon World Headquarters certificate. Their son, James Eun, also is an instructor (fourth-degree).

It was a double celebration at Eun's Martial Arts Center, 11110 Kingston Pike in Aspen Square, Saturday, Jan. 5.

Grand Master Seong J. Eun, owner and senior instructor, was recognized by Kukkiwon World Headquarters, Seoul, South Korea (taekwondo) for his "passion and love for taekwondo," a Kukkiwon certificate stated. "... Thanks to your hard effort, trainees are aware of the values and ideals of taekwondo. ...

"Therefore, to express gratitude for your efforts and achievements, the World Taekwondo Headquarters Kukkiwon would like to honor you with the 2018 Top-Ranked Kukkiwon Membershp System Master."

Hendersons, Hale combine for 21 degrees

Also recognized was the accomplishments of one Farragut family, who have combined to earn 21 blackbelts under Eun's instruction and leadership.

Owen Hale, 70, is a Eun's Martial Arts Center instructor and fourth-degree blackbelt. His daughter, Jenni Henderson, also is an instructor and a third-degree blackbelt.

Next is Henderson's elder son, Alex Henderson, and elder daughter, Haley Henderson: both are instructors and fourth degree blackbelts.

Jenni's husband, Michael Henderson (first degree), their youngest daughter, Sydney (third degree) and youngest son, Nathan (second degree) are Eun's class members.