'History of Concord and Farragut' film draws high praise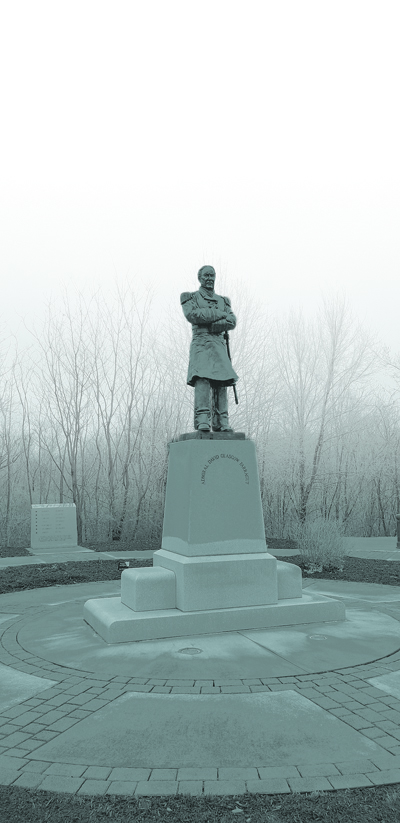 Packing Town Hall boardroom to learn more about Concord-Farragut history, Town leaders, historians and interested citizens viewed the film, "The History of Concord and Farragut," Thursday evening, Jan. 31.

Echoing the rave reviews, "I was always proud to be from Farragut, and now I'm even prouder. There were things I didn't know," Cindy Hollyfield said. "A lot about Farragut, of the Admiral (James David Glasgow Farragut) I knew, but I had no idea that he went to the Navy at 9 1/2 (years old)."

"There was a lot of stuff we had to cut from the film because of the 30-minute time limit," Farragut Mayor Ron Williams said of the production, which

was created by local award-winning filmmaker Keith McDaniel.

The 28-minute film relates the history of Farragut and Concord from the time of the "Principal" Woodland Indians to the Civil War Battle of Campbell Station (1863) to the founding of the Town of Farragut, which was incorporated in 1980.

"I call it Farragut's greatest hits," McDaniel said, smiling. "Given the limited amount of time allowed, you can't really deal with a lot in 30 minutes.

"It was great working with the Museum Committee, Julia (Barham, Farragut Museum Historic Resources coordinator) and Sue (Stuhl, Farragut Parks & Recreation director). I also enjoyed meeting the interviewees," he added. "I'm from East Tennessee, and I learned things I hadn't known before, so it was interesting (to make the film). I'm interested to see what people of Farragut think."

What follows are specific comments from others viewing the film:

Local historian Malcolm Shell, a long-time Farragut resident: "We couldn't have picked a better person than Keith. I think it was a good job, and we've got more (films) we will be doing."

Betty Dick, a film participant, one of the Town's founders and a Farragut Municipal Planning Commissioner: "It's very interesting that Tennessee made marble."

Barham: "Overall, everyone was excited. We sold several copies of the DVD."

Alderman Scott Meyer: "What I learned was with the Concord community (in the early 1900s), they had the three different churches, but they didn't let differences of beliefs stop them from having a big community gathering. It seemed like the fifth Sunday of every month, all three congregations came together and they celebrated what they believed in, and they found that commonality.'

Jeanie Stowe: "The scenes were very pretty, the people were very well-spoken; and I didn't know marble was something that was made here."

Alderman Ron Pinchok: "I would like Farragut's students to be exposed to it."

He added he would like to see two 10-minute films — one on the Battle of Campbell Station and another on Admiral Farragut — made to share with visitors as part of the Town's Tourism program.

Lou LaMarche, Museum committee member: "It was very comprehensive. The people who did the history and the man, McDaniel, that did the film itself, should be congratulated because they did a good job of it."

Jerry Thornton: "It's like the producer said, it's too short."

His wife, Alice Thornton: "It presents a lot of different aspects of the history and it may pique people's interest to go look for more."

Rita Holladay, FMPC chair: "It whets my interest for more. … It didn't hit as much on the incorporation of Farragut; I'd like to hear more about that, too."

Vice Mayor Louise Povlin: "I didn't know that we were such a marble center, the companies — and where it's gone (for use). The Washington Monument, the Capitol Building."

The 28-minute film touches on 12 topical areas.

Williams said the film also could be expanded in the future to make more small films, adding the Town is planning a different film for its 40th anniversary celebration in 2020.