Nick Yan best among 27 as FMS Spelling Bee champ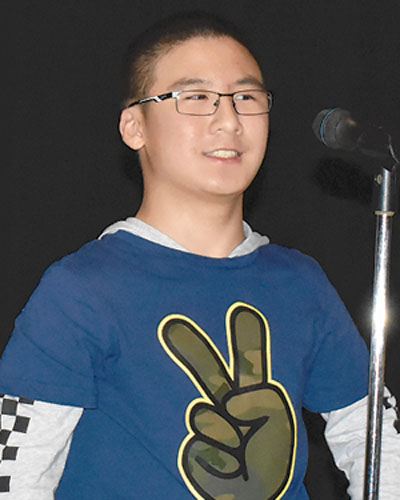 Seventh-grader Nick Yan was crowned FMS Spelling Bee champion.

Farragut Middle School seventh-grader Nick Yan outspelled 26 fellow students to win this year's school-wide spelling bee.

Nick was crowned Thursday, Jan. 24, following almost two hours of the contest, which was moderated by Kai Hommes.

In the end, it was down to Nick and eventual runner-up Angelo Flores, an eighth-grader — both successfully spelling back and forth for several rounds before Nick correctly spelled a word Angelo had missed, then another word all his own.

Last year's spelling bee champ, Emma Tarditi, looked to repeat as an eighth-grader. She made it to the final eight before being eliminated.

Spelling words the students were given included fairly easy ones, such as "mortgage," to the more difficult, including "marjoram," "pectoral," "hexameter," "Episcopal," "nouveau" and "quetzal" among others.

Nick will go on to the Southern Appalachia Regional Spelling Bee Saturday, March 16, on the University of Tennessee, Knoxville campus. School and district champions will take a written test in the morning, then students with the top 50 to 60 scores will advance to the oral portion of the contest in the afternoon, according to the SARSB's website.

Other FMS students who participated were:

Eighth grade: Lainey Baakko, Nia Maheshwari, Samantha Garner, Freya Cordell, Ian Marshall, Irene Mamontov and Ava Wetherby.

Seventh grade: Danial Khan, Kathleen Cook, Bhargav Kamujula, Maushmi Thirumaran, Kylie Smith, Adarsh Muralidharan, Hannah Taylor and Cooper Wirth.

Sixth grade: Eric Zhang, Alisa Bryantseva, Grace Doyle, Jack Magee, Suhas Pottimutyalagari, Tobias Peterson, Brycen Hee, Adelai Hoskins and Abby Garcia-Martinez.